The only patented liners with FAR-IR ANION strip, 15 ct
Regular price
Sale price
€2,50
Unit price
per
Sale
Sold out
Introducing our Super Soft, Organic Cotton Regular Liners with FAR-IR Anion Strip - the perfect solution for your daily protection needs without sacrificing your health. Made from  eco-certified cotton, our liners are soft, gentle, and breathable - providing you with ultimate comfort and protection.
Patented FAR-IR Anion Strip helps neutralize bacteria and odor, ensuring that you stay fresh and confident all day long. And because our liners are eco-certified and all-natural, you can feel good about what you're putting on your body and the impact it has on the environment.
Experience the comfort and confidence that comes with using a liner designed specifically for your needs. Choose GENTLE DAY for a gentle, natural, and effective solution to your menstrual and daily protection needs.
Length: 155 mm / 6.10 in
FEATURES

✔ Hypoallergenic, pH balanced, non-chlorine bleached, toxin-free
✔ Super soft cotton top layer for gentle everyday comfort
✔ Fragrance-free all-natural odour protection
✔ Absorbent, breathable and flexible
✔ FAR-IR ANION Strip™ for maximum hygiene and skin protection
✔ Eco-certified and VEGAN
✔ Individually sealed wrapper
Patented. Designed in Lithuania, manufactured in China ISO 9001, ISO 14001 certified facility. FDA registered in the USA.
MATERIALS

Free of dyes, perfumes, chlorine bleach, and heavy metals.
Certified OEKO-TEX®, MADE FOR HEALTH®, VEGAN (Vegetarian Society).
Materials:
• hypoallergenic soft cotton/rayon for better absorbency;
• patented FAR-IR ANION anion strip - protection from nature with mineral tourmaline and silver ions, which stop bad odor and bacterial growth, and reduce discomfort during menstruation;
• cellulose layer with cotton;
• plastic with calcium carbonite for air permeability;
• non-toxic glue - sticks well and holds the pad in place.
RECOMMENDED

Daily protection | sensitive skin | frequent infections
HOW TO USE

To use: Peel off the plastic wrapper, centre the liner on your underwear, press it down. To dispose: remove the liner from your underwear, wrap it in toilet paper or a liner wrapper, and put in a waste bin.
DELIVERY

· Free delivery for orders over €70. Shipping charges are 7,90€.

· Delivery to all EU countries, also Norway, Switzerland, and Teneriffe.

· For more information about shipping click here.
Share
View full details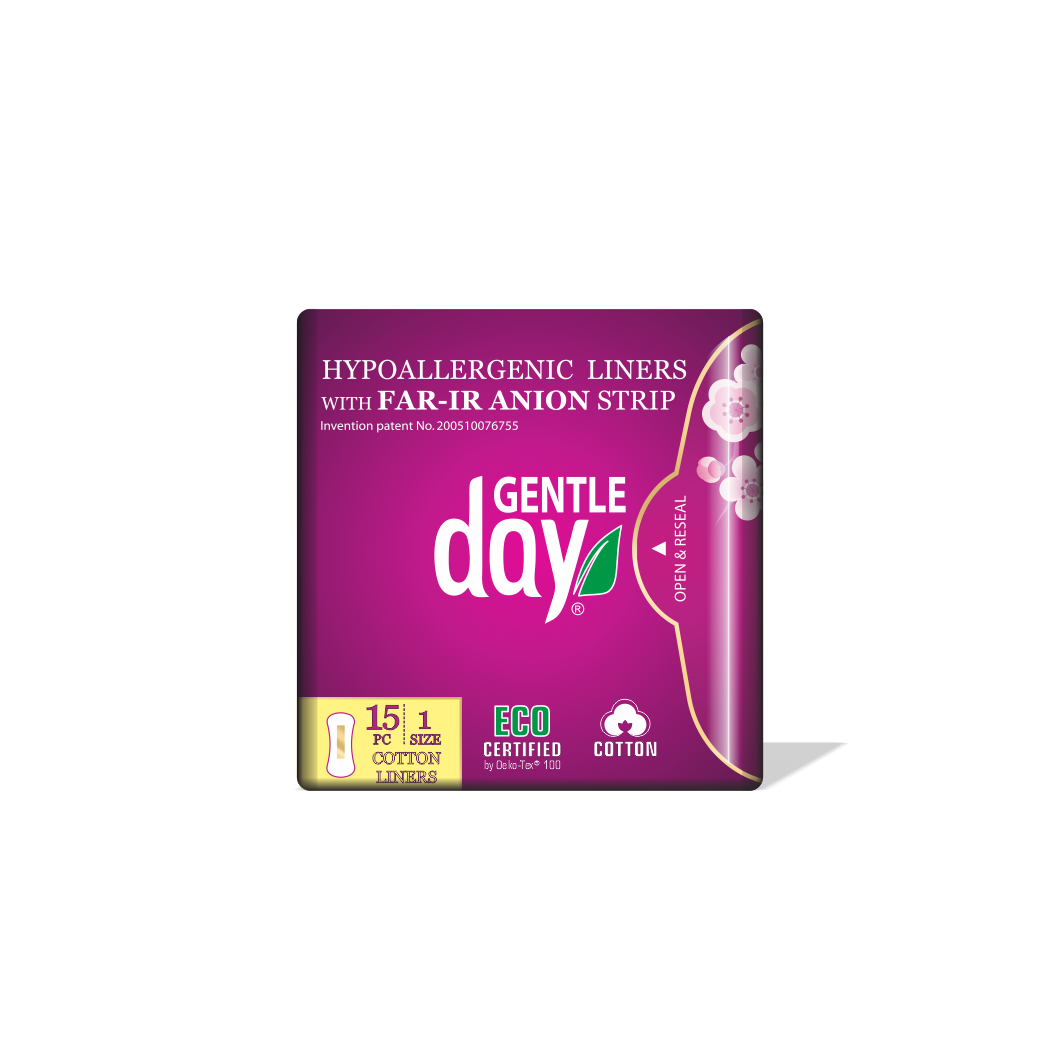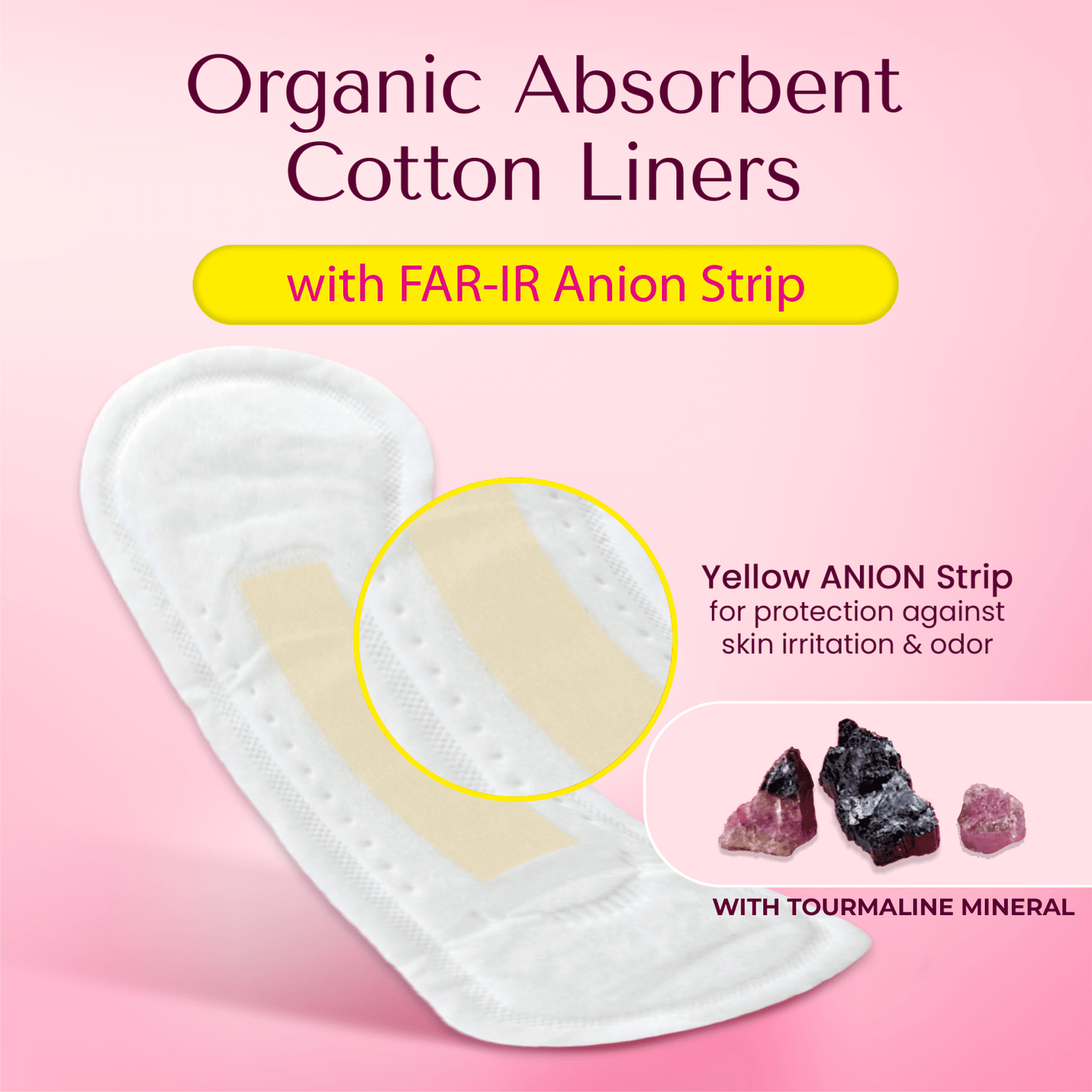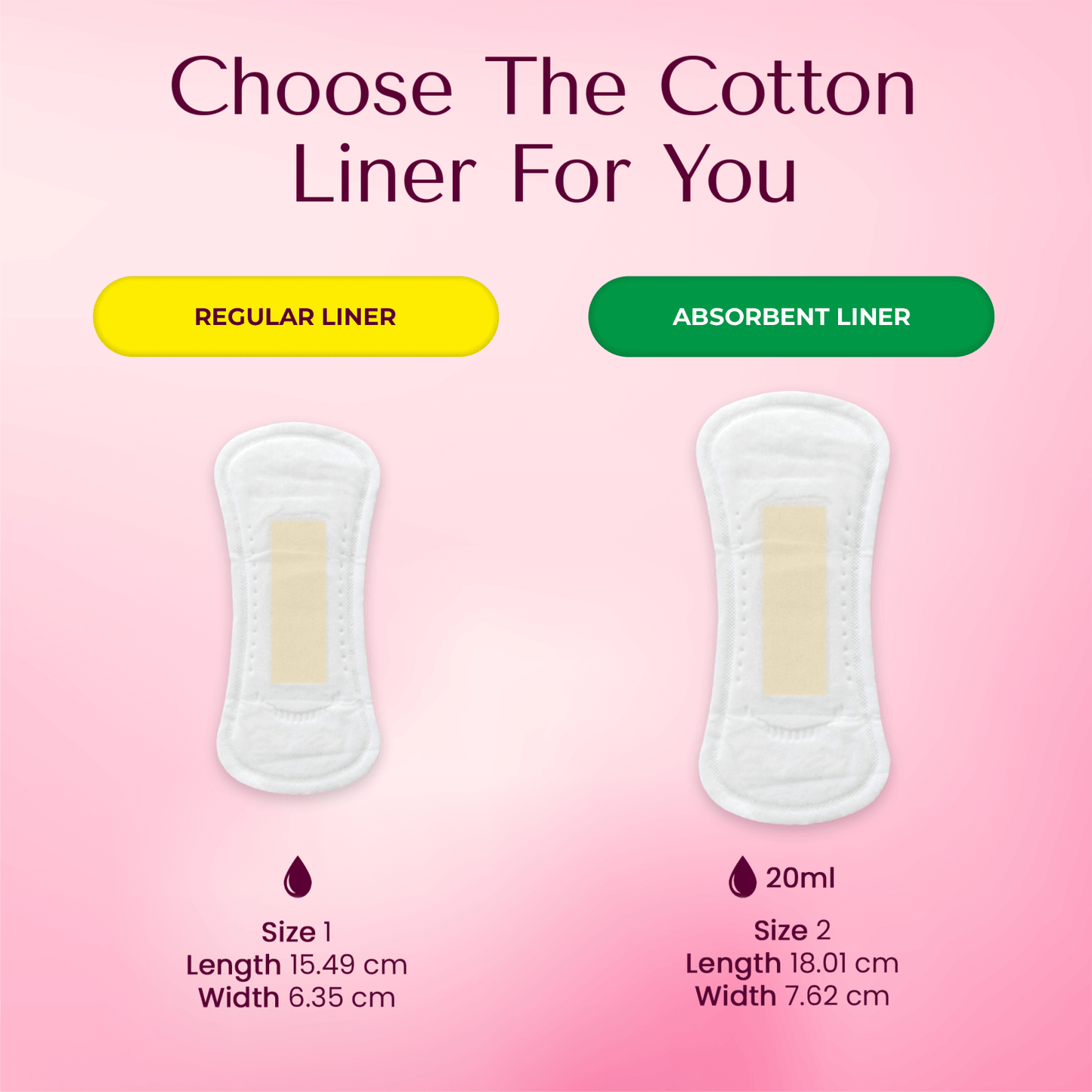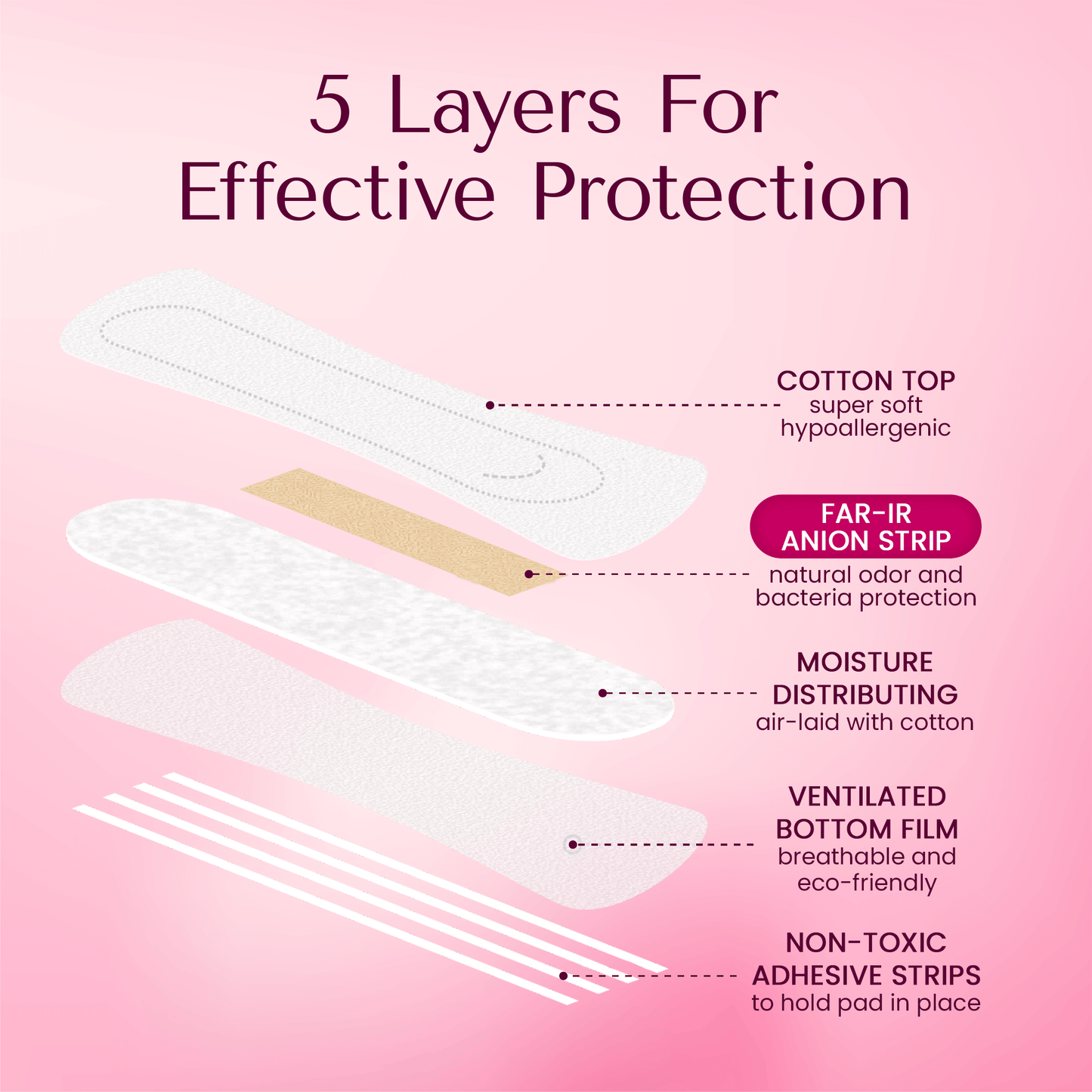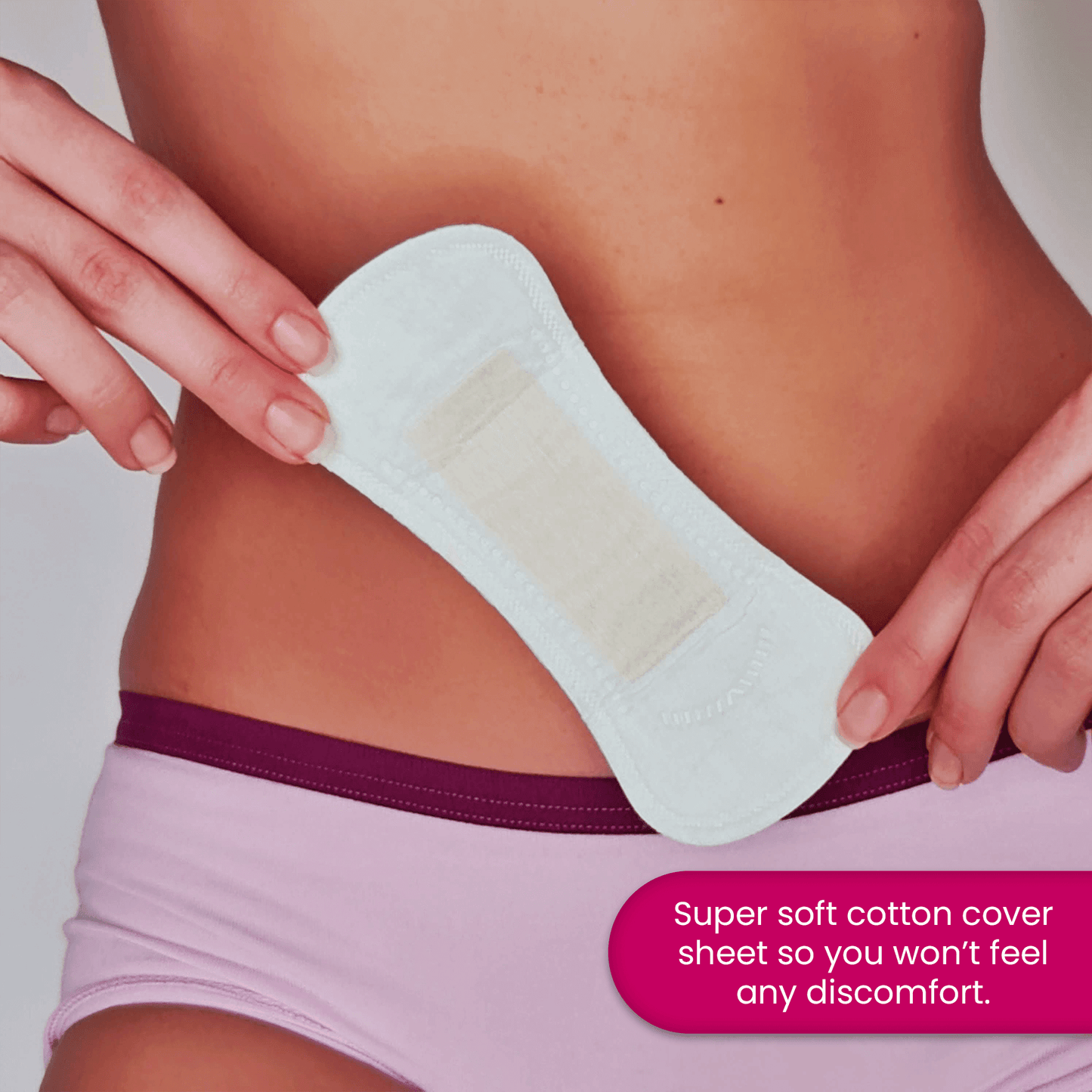 ELIMINATE DISCOMFORT

Patented and revolutionary FAR-IR ANION Strip™ – natural protection against bacteria & odour. May help eliminate period discomfort.

NATURAL COTTON

Best choice for your daily discharge - liners with cotton top.

NO SKIN IRRITATION

Free of toxic chemicals and reproductive system disruptors, skin friendly pH levels. OEKO-TEX®, Made for Health® and VEGAN certified. Dermatologically tested.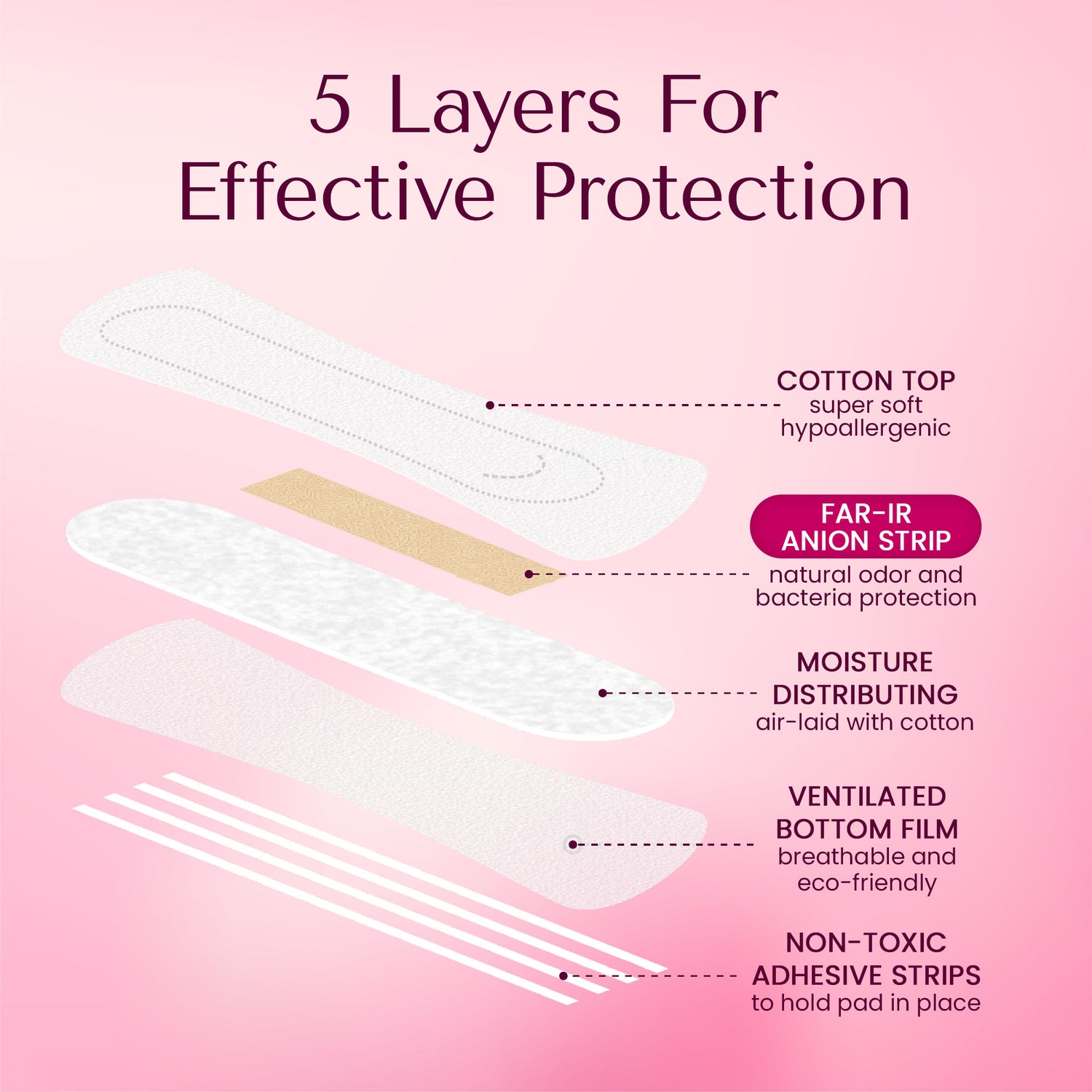 Your best daily protection
GENTLE DAY® liners are organic and toxin-free, pH balanced for sensitive skin. Carefully crafted packaging prevents the pad from bacterial contamination. The innovative health care textile technology with tourmaline and silver ions allows for fragrance-free odor control which also eliminates bacteria. GENTLE DAY® organic liners are clinically tested for bio-compatibility, so they won't irritate. With breathable ventilated bottom film, will let your skin breathe.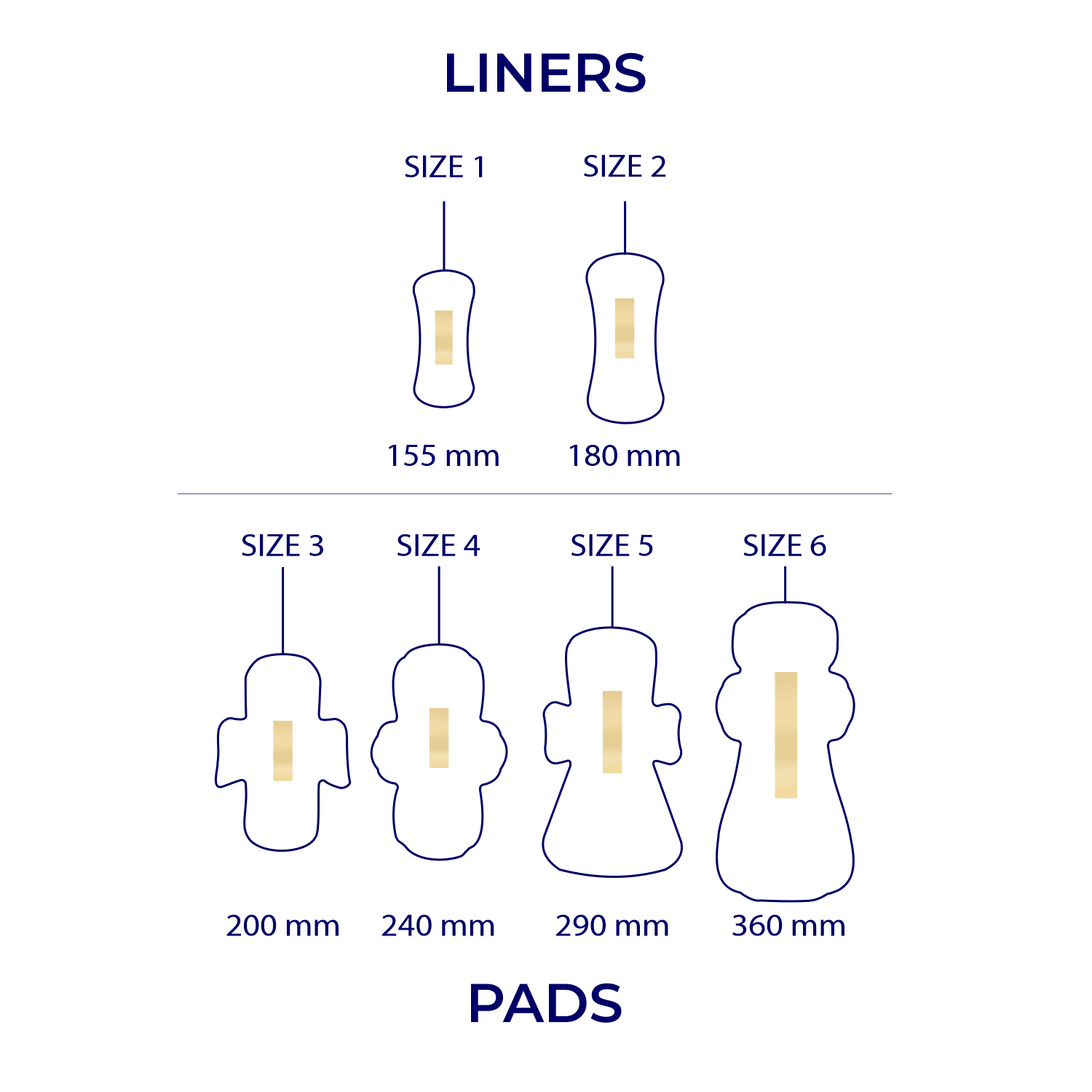 Size is important
We got you covered. Feel confident and stay protected from leaks with our amazing options of different sizes and absorbency levels.

Size 3 on days when your flow is light.
Size 4 is best for daytime use. Up to 8 hours of protection.
Size 5 is best for nighttime use, with extra coverage and extra wings in the back. Up to 10 hours of leak protection. 
Size 6 is best for extremely heavy or postpartum flow, with extra coverage and extra wings in the back. Up to 10 hours of leak protection.