Plastic-free, biodegradable 100% bamboo wet wipes, pH balanced
Regular price
€29,90
Sale price
€26,90
Unit price
per
Sale
Sold out
Save when purchasing a bundle! The wipes are safe to wipe any body parts, even the baby's buttock. Suitable for sensitive skin. Organic and biodegradable bamboo viscose wet wipes are soft and gentle yet strong. Water-based formula cleans skin without soap and does not leave a sticky residue. It can be used for wiping the menstrual cup. Convenient small packaging can fit any purse. 
FEATURES

• Hypoallergenic, skin balanced pH
• Small package of 10 pc. conveniently made for traveling
• PLASTIC-FREE. Made of BIODEGRADABLE organic Bamboo viscose
• 98% RO (reverse osmosis) water-based formula perfectly cleanses the skin and does not leave the stickiness
• Bamboo wipes are durable but very soft and gentle to the skin
• Non-chlorine bleached, free of fragrance or essential oil, alcohol, soap, SLES/SLS, paraben, DEA, PEG
• With moisturizing and calming ALOE VERA and vegetable glycerine
• With patented preservative A.SAP made from grain
• Certified Oeko-Tex® 100, Made for Health®, VEGAN, Leaping bunny
• For use on face, body, and intimate parts. Safe for babies.
INGREDIENTS

Aqua, aloe barbadensis leaf juice, glycerin, citric acid, polyhexamethylene biguanide hydrochloride, glycine, benzalkonium chloride.
RECOMMENDED

To clean intimate parts | hands | face | body parts | menstrual cup.
TO USE

After removing the wipe tightly close the package, cleanse your skin, and dispose of the wipe.
DELIVERY

· Free delivery for orders over €70. Shipping charges are 7,90€.

· Delivery to all EU countries, also Norway, Switzerland, and Teneriffe.

· For more information about shipping click here.
Share
View full details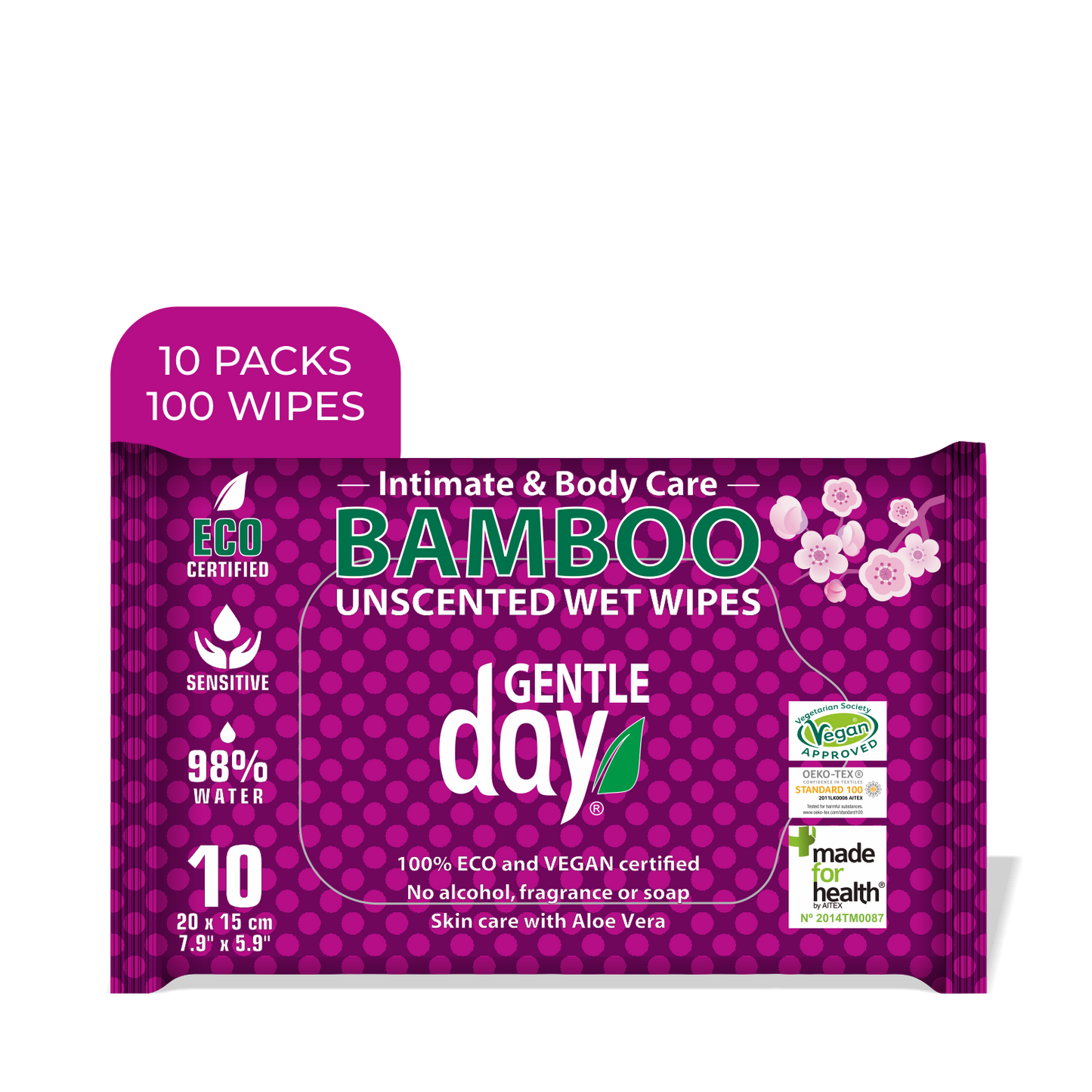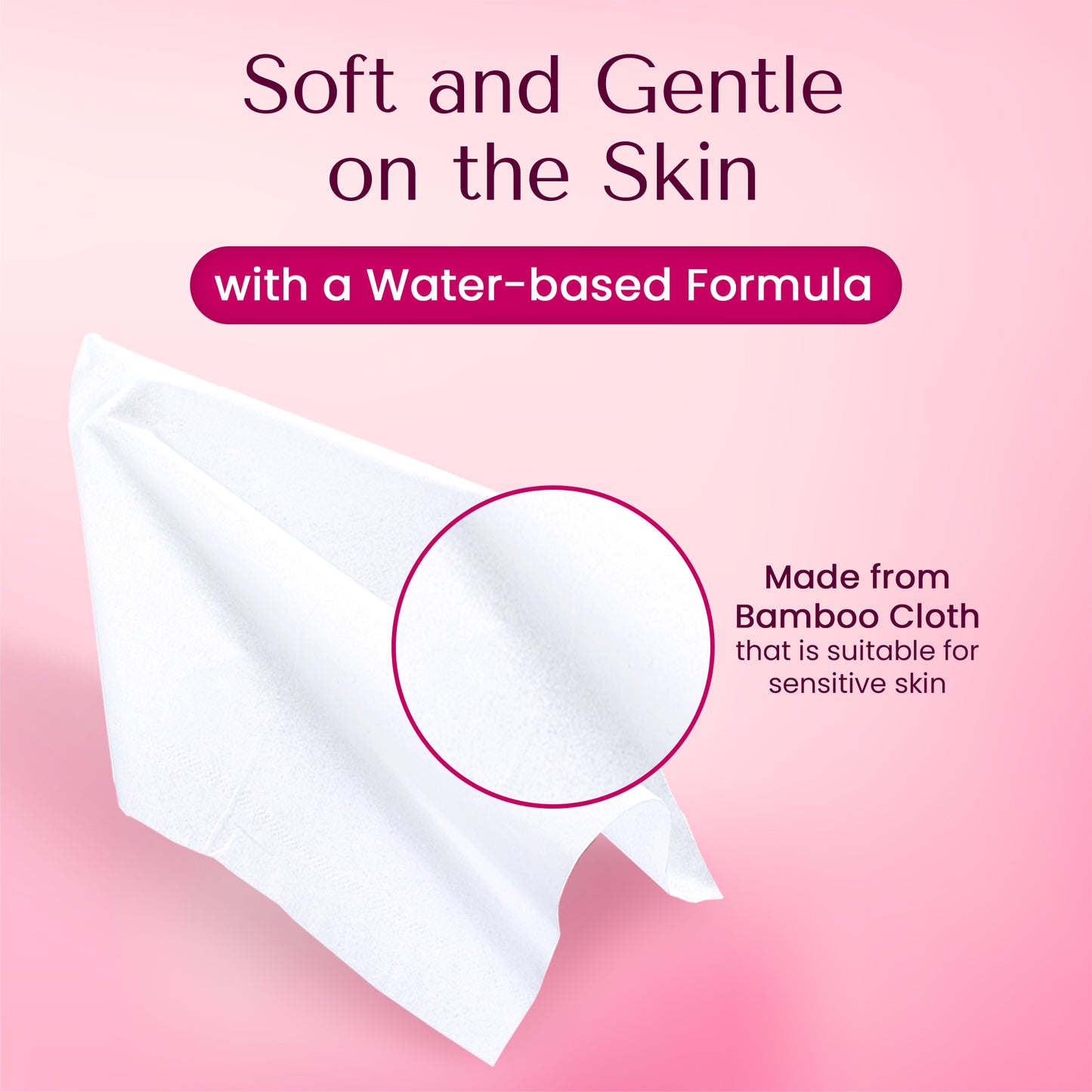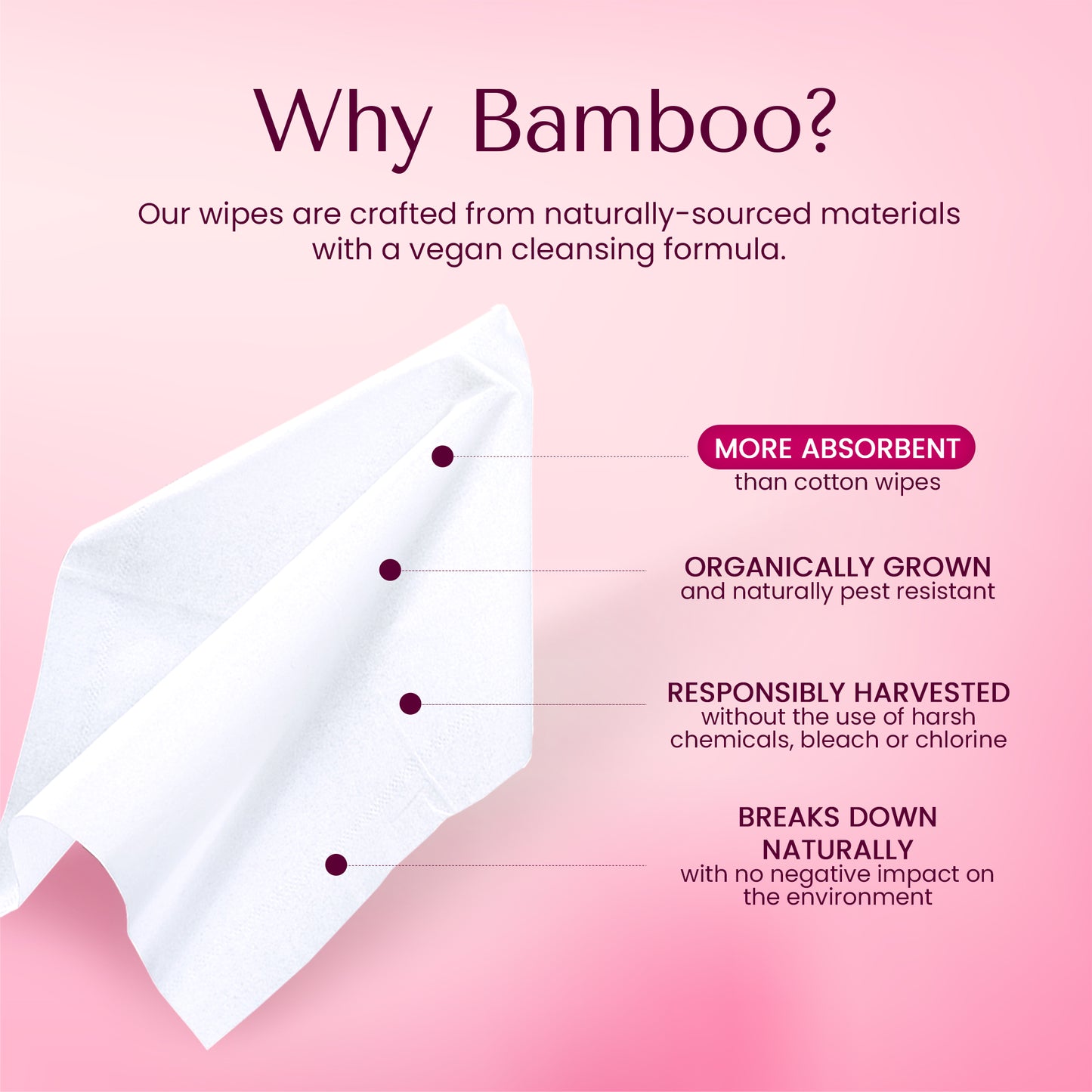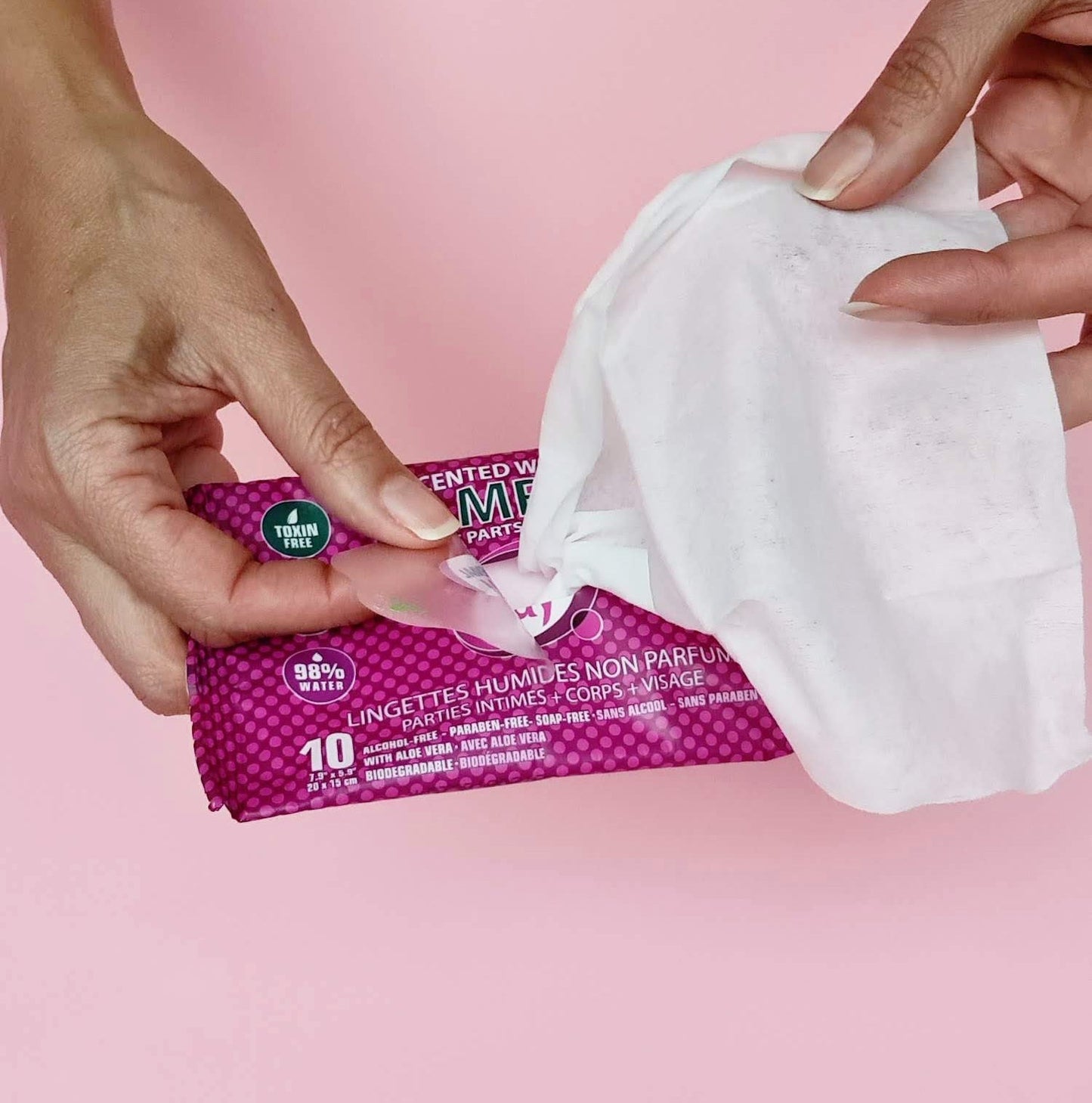 ORGANIC

Does not contain environmental toxins, certified VEGAN - no animal derived ingredients, does not tested on animals.

NO SKIN IRRITATION

The gentle formulas of GENTLE DAY® vulva and body care products are formulated without SLS/SLES, fragrance, essential oils, parabens, alcohols, and allergens.

pH BALANCED

Tested for harmful subsctances OEKO-TEX® certified, cytotoxicity tested - non irritant, Leaping bunny approved, VEGAN certified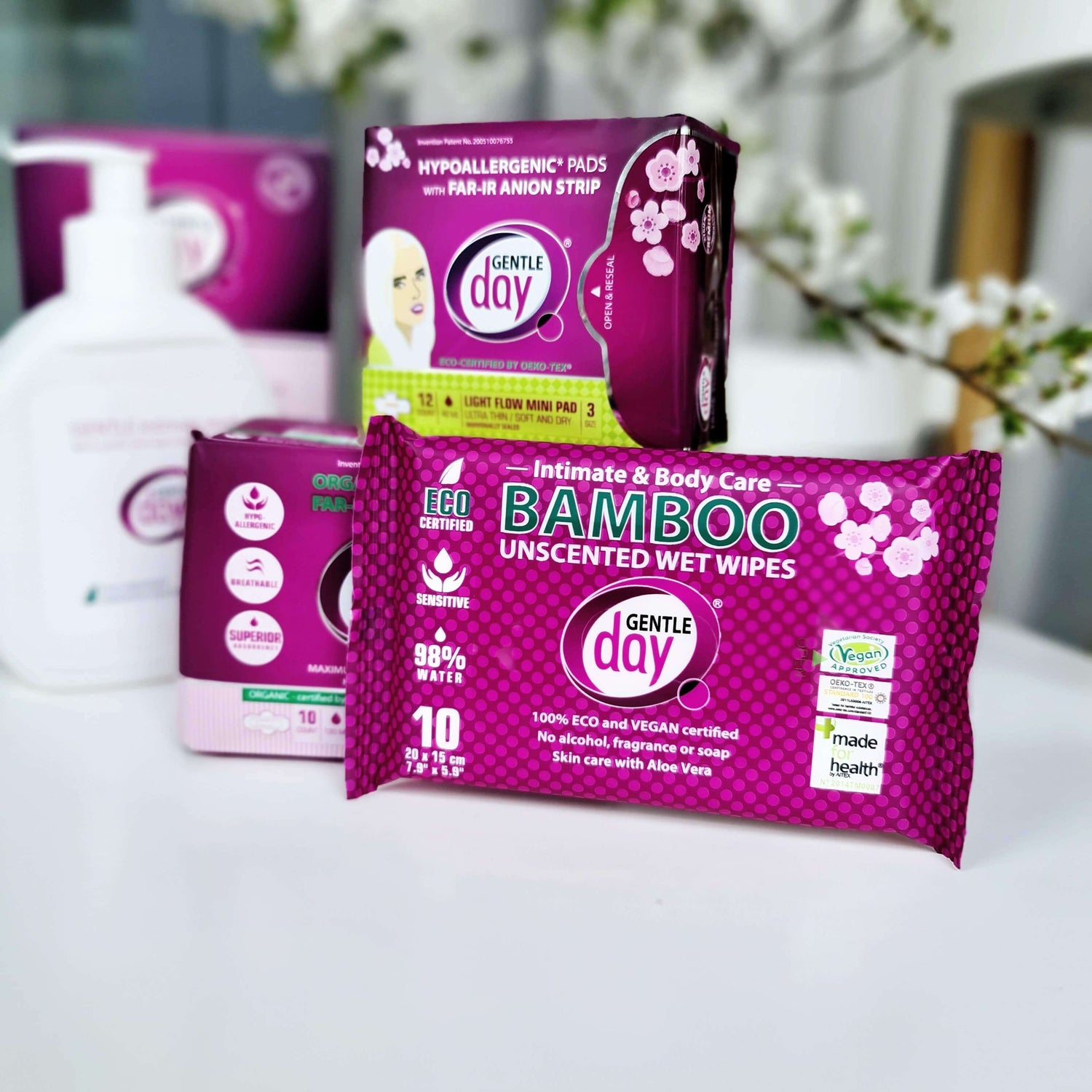 WHY BAMBOO?
✔ Our bamboo wipes are 100% biodegradable – the wipes break down naturally after disposal with no negative impact on the environment.
✔ Bamboo is organically grown and is naturally pest resistant, making it 100% pesticide free.
✔ Bamboo needs very little to no water to grow and uses less space than cotton.
✔ Bamboo absorbs CO2 and releases oxygen into the atmosphere – generating more oxygen than trees.
✔ Bamboo is harvested from established plantations, not from forests – so it does not destroy orangutan or panda habitats.
✔ This type of bamboo is not the type pandas eat, so it is very panda-friendly!
✔ No chlorine bleach is used.
✔ Bamboo is 60% more absorbent than cotton.
✔ Bamboo is naturally antibacterial.