Soothing, calming, and moisturizing unscented daily foam wash. pH 5.
Regular price
Sale price
€12,90
Unit price
per
Sale
Sold out
Intimate Foam Wash is specially formulated for gentle care of sensitive skin in intimate areas. It brings the desired freshness, and comfort. Ultra-fine and soft foam texture will enhance your intimate hygiene experience with a gentle cleansing effect while optimizing moisture level, softening and soothing the skin with the help of Panthenol (provitamin B-5), xylitol, hydroxyethyl urea, sodium lactate, and sodium gluconate. The lactic acid will help to maintain the physiological pH level. Free of harmful chemicals and environmental toxins.
FEATURES

• Formulated for gentle cleansing of sensitive intimate skin
• Made with soothing, calming, and moisturizing ingredients
• With Xylitol which boosts skin hydration levels by improving skin barrier functions and also fights the yeast Candida albicans, which can lead to candida infections.
• With PANTHENOL (provitamin B5) to soothe the skin and relieves the skin from irritation and redness.
• The lactic acid will help to maintain the physiological pH level.
• Formulated for sensitive skin: free of fragrances or essential oils, alcohol, SLES/SLS, and parabens
• Vegan, cruelty-free, made with ECOCERT and COSMOS certified ingredients
• Environmentally friendly - 0% environmental toxins
• Perfect for women during postpartum, premenopausal and menopausal period.
• Made in Lithuania (EU).

INGREDIENTS

KEY INGREDIENTS & BENEFITS
• XYLITOL: conditions, moisturizes, improves the skin's barrier function. There is a study that found that xylitol can fight Candida Albicans, which can cause fungal infections.
• PANTHENOL (provitamin B5): has soothing properties, helps the skin to maintain its moisture level, and protects it from irritation. Provitamin B5 accelerates the healing process of injured skin.
• LACTIC ACID: maintains the natural acidity of the skin, which is favorable for the mucous microflora.
• DECYL GLUCOSIDE: gentle, foaming substance, that does not irritate or dry out the skin, gently washes.
• HYDROXYETHYL UREA: a softening and long-lasting moisturizing agent.
• SODIUM LACTATE: supports the natural moisturizing factor (regulates the moisture content of the skin by protecting against dehydration) and helps to hydrate the skin.
• SODIUM GLUCONATE skin conditioning agent: it makes the skin softer and smoother.

FORMULATED WITHOUT:
• Fragrances or essential oils
• Allergic ingredients
• Sulfates (SLES, SLS)
• Alcohol
• Soap
• Dyes
• DEA
• PEG

Aqua, Decyl Glucoside*, Hydroxyethyl Urea, Xylitol, Sodium Lactate, Sodium Gluconate*, Panthenol, Lactic Acid*, Sodium Benzoate, Potassium Sorbate. *Certified organic

RECOMMENDED

For daily use | sensitive skin | postpartum | pregnancy | recurring vaginal infections
TO USE

Dispense 2 to 3 pumps of the foam wash, gently massage over the intimate area and then rinse thoroughly off with lukewarm water.
DELIVERY

· Free delivery for orders over €70. Shipping charges are 7,90€.

· Delivery to all EU countries, also Norway, Switzerland, and Teneriffe.

· For more information about shipping click here.
Share
View full details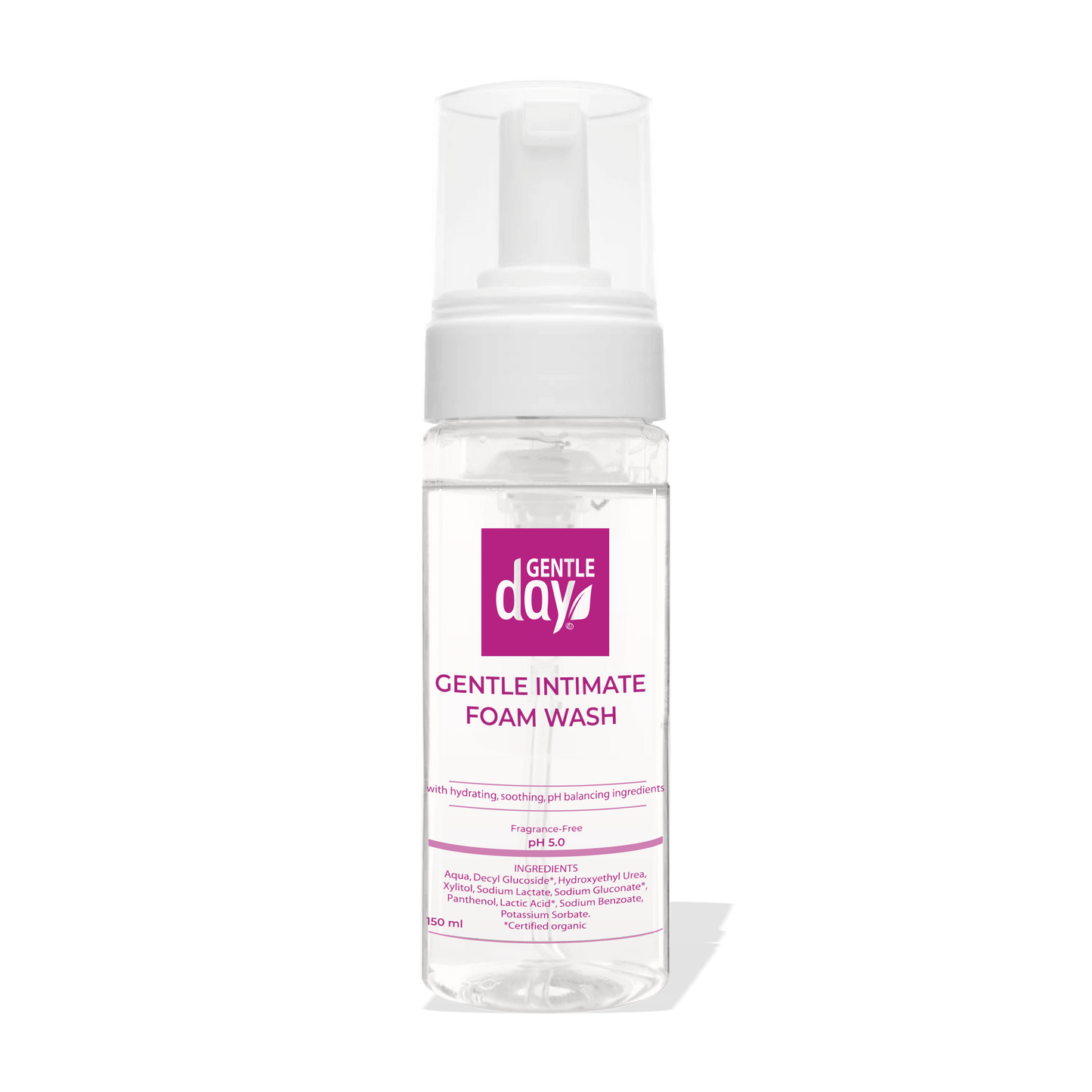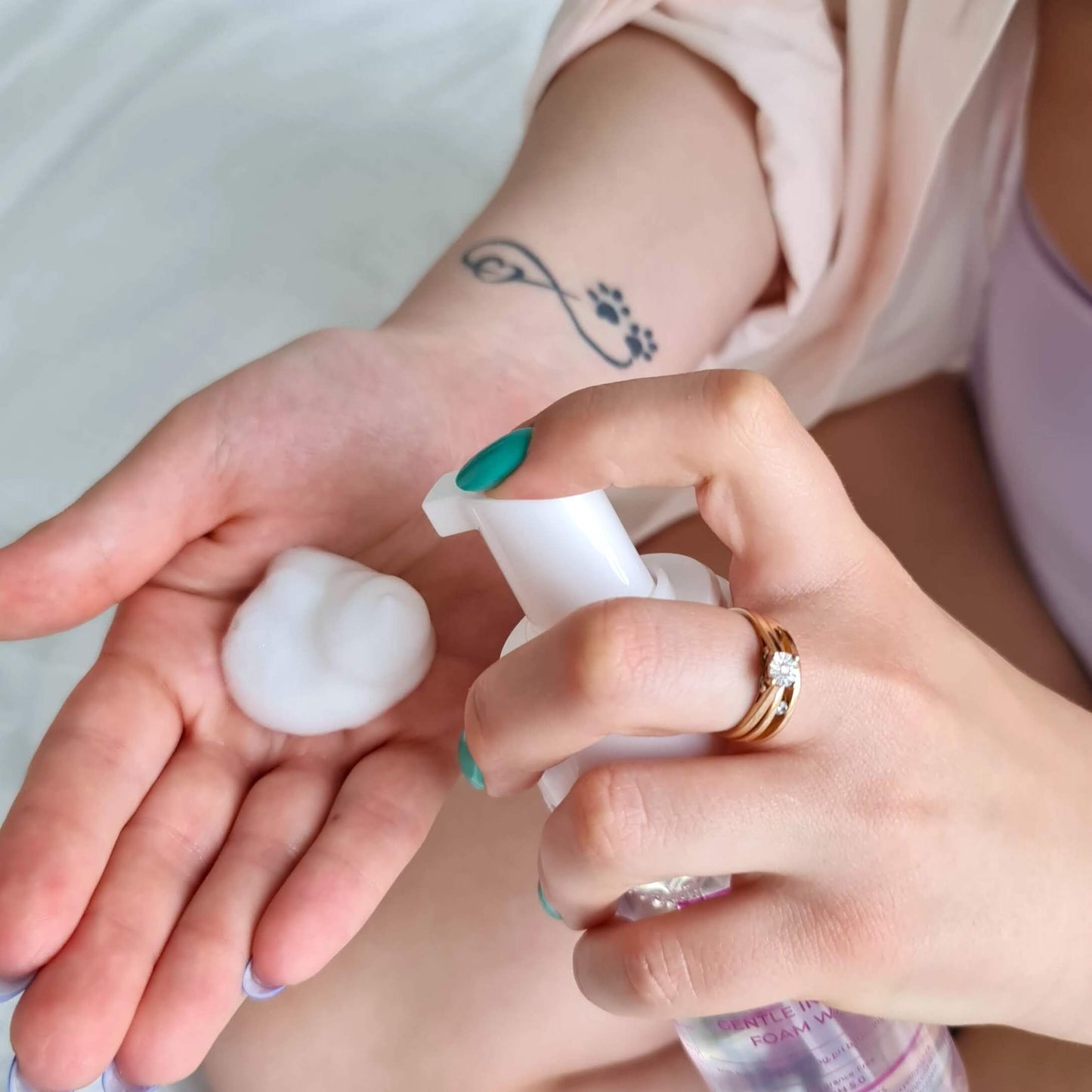 FOR SENSITIVE SKIN

The gentle formulas of GENTLE DAY® vulva and body care products are formulated without SLS/SLES, fragrance, essential oils, parabens, alcohols, and allergens.

pH BALANCED

Lactic acid maintains the natural acidity of the skin, which is favorable for the mucous microflora.

ECO AND HUMAN FRIENDLY

Does not contain environmental toxins, certified VEGAN - no animal derived ingredients, does not tested on animals.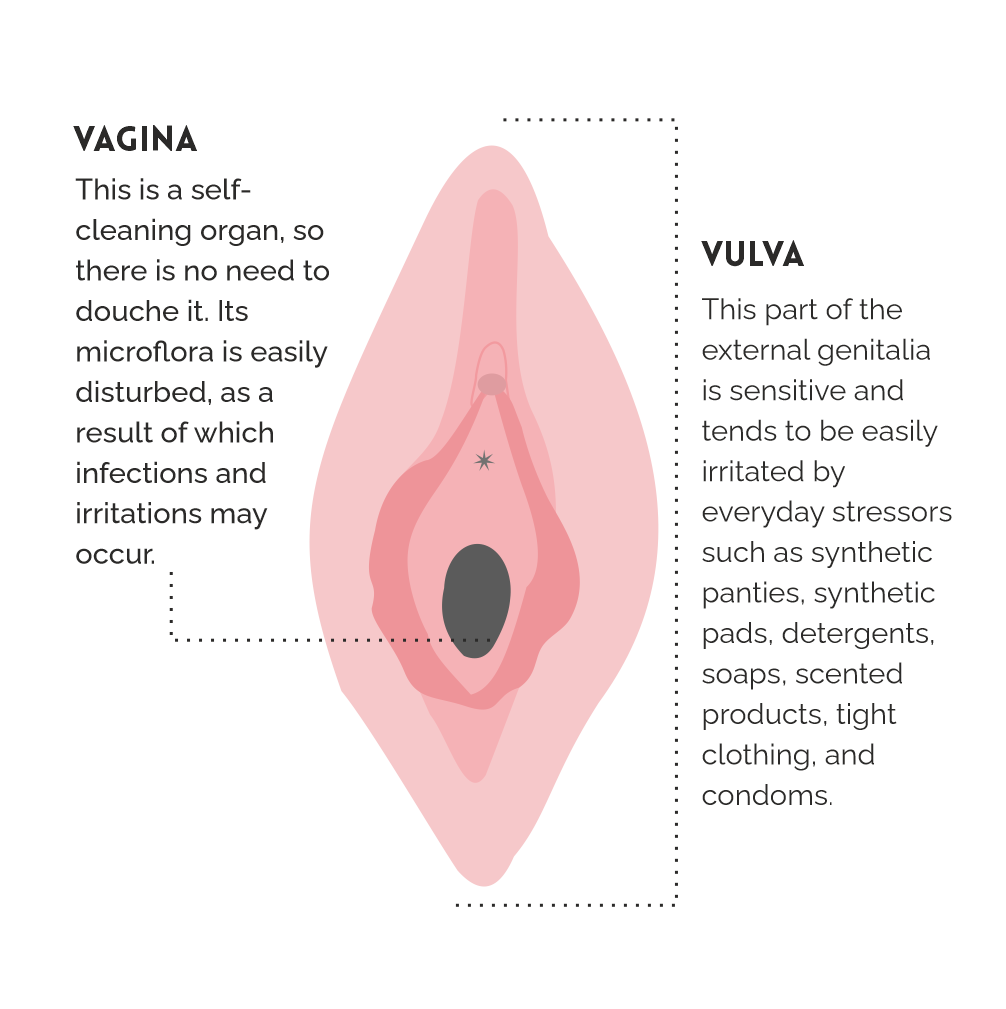 Preventing vaginal infections
Recurrent vaginal infections and irritated skin of the vulva are common complaints among women. They occur due to hormonal changes from adolescence to menopause. This is also influenced by synthetic pads, synthetic panties, dark clothing, detergents and fabric softeners, perfumes in intimate hygiene products, and unbalanced pH of products.