The first Organic Cotton non-applicator Tampon WRAPPED IN PAPER, 18 ct
Regular price
€4,49
Sale price
€4,49
Unit price
per
Sale
Sold out
Plastic-free organic cotton GENTLE DAY® tampons prevents skin irritation and vaginal dryness. Patented COTTONLOCK systems prevents the tampon from fibers sheding. 
Why it is important to choose the right tampon absorbency?
In order to reduce the risks of menstrual toxic shock syndrome (TSS) use tampons with the lowest absorbency necessary to meet your needs and change your tampon regularly every 3-6 hours. You can also alternate between GENTLE DAY® highly absorbent sanitary pads and tampons at least at night.
FEATURES

✔ Hypoallergenic. Help prevent the risk of irritation and allergies.
✔ Made with organic cotton, grown without the use of pesticides, herbicides, or chemical fertilizers.
✔ Patented Cottonlock system. The absorbent core is completely covered 360 º with a safety veil of organic cotton to avoid the detachment of fibers.
✔ Product certified organic by ICEA under the GOTS standard.
✔ Wrapped in recycled paper, the most environmentally friendly option.
✔ Vegan Product. Not tested on animals and no ingredients of animal origin have been used.
✔ Fragrance and viscose free. Chlorine-free bleached cotton.
MATERIALS

• 100% Organic Cotton Absorbent Core
• Organic Cotton Withdrawal Cord
• Organic Cotton safety-veil
• Cellulose Wrapper.
• Made in Spain ISO 9001 certified and FDA approved facility. FDA registered.
HOW TO USE

A tampon is used in the vagina where menstrual blood is absorbed. It is important to change the tampon on time (every 4-8 hours), because the use of tampons is associated with toxic shock syndrome. In each box of tampons you will find instructions. Be sure to read it before using tampons for the first time. Wrap the used tampon in toilet paper and throw it in the trash. Do not flush. Dispose of the empty packaging in the waste container.
DELIVERY

· Free delivery for orders over €70. Shipping charges are 7,90€.

· Delivery to all EU countries, also Norway, Switzerland, Teneriffe.

· For more information about shipping click here.
Share
View full details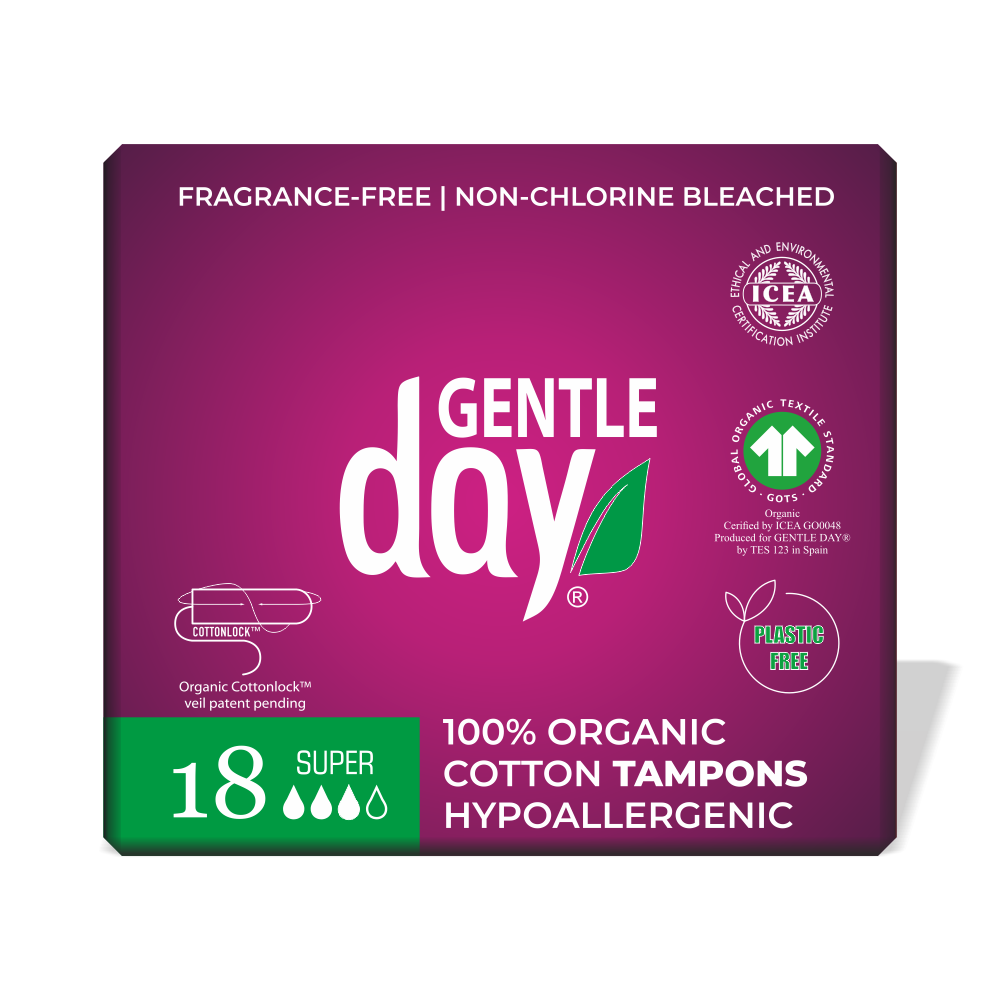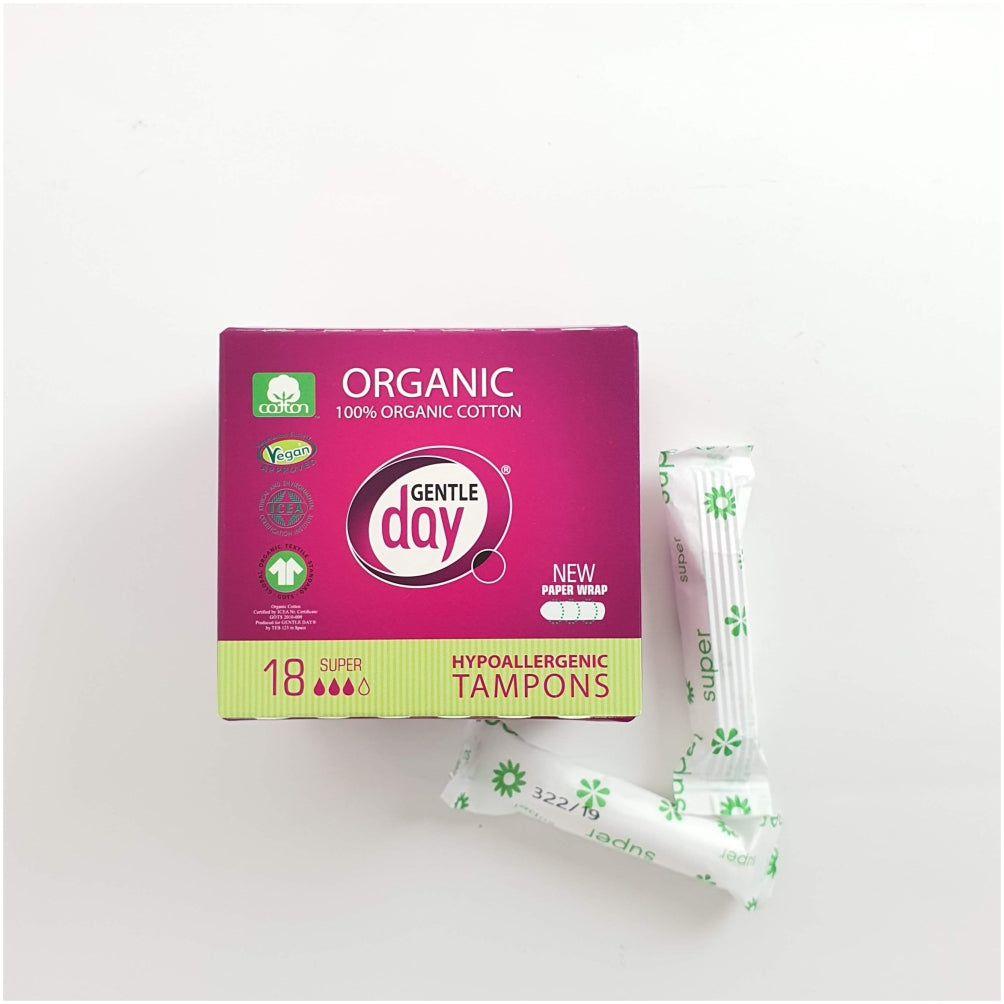 COTTONLOCK

The COTTONLOCK system offers a safety veil of organic cotton that wraps 360º around the absorbent core reducing the risk of fibers remaining in the vaginal walls.

PLASTIC-FREE

Most tampons are packaged in plastic, GENTLE DAY® tampons were among the first to be packaged in individual paper wrappers.

HYPOALLERGENIC

GENTLE DAY® tampons are made of 100% GOTS certified cotton and do not contain viscose or synthetic fibers, so these tampons help prevent vaginal dryness, irritation and allergies.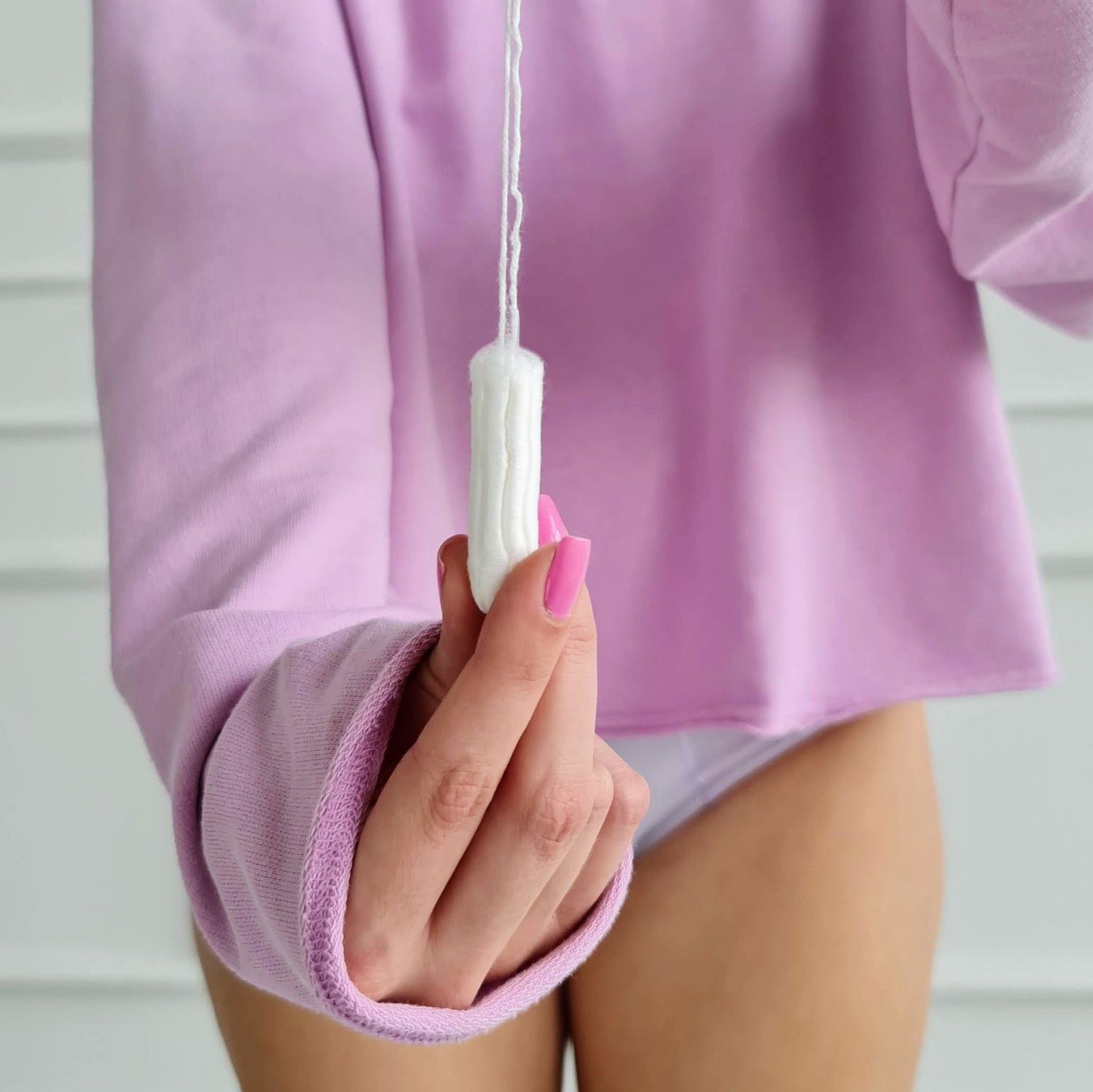 What size to choose?
GENTLE DAY® tampons come in three sizes. When choosing tampons for the first time, we advise you to choose the smallest "REGULAR" size. In all other cases, choose the size that is most convenient for you. The bigger the tampon, the more it absorbs:
- REGULAR absorbs 6 - 9 g.
- SUPER absorbs 9 - 12 g,
- SUPER PLUS absorbs 12 - 15 g.