Innovative period panties to protect you from leaks
Regular price
€36,90
Sale price
€31,30
Unit price
per
Sale
Sold out
Size Chart
Regular gusset

TENCEL™ modal
Based on popular demand, we've crafted these bikini period underwear, ensuring you feel both unrestricted and confident during your cycle, eliminating the need for additional protection. Double layer Tencel™ modal fabric embraces your body with a gentle yet secure fit. The design ensures the lace doesn't dig into your skin, and the multi-layered absorbent gusset guarantees effective absorbency. What sets this period panty apart from other GENTLE DAY menstrual underwear is its unique composition of three absorbent layers—two made of cotton and one of bamboo/polyester—to absorb your flow efficiently. The crotch design is shortened at the back, reducing sweat and ensuring freshness even on the warmest days. With an absorbency equivalent to 6 tampons, these panties are ideal for days when you prefer no additional protection. However, should you choose to use a pad for extra assurance, its wings can be discreetly tucked away, a feature consistent with our patented GENTLE DAY underwear range.
DESCRIPTION

✔ No more leaks or embarrassing accidents during your period.

✔ Wear it as backup underwear with your tampon, pad, or menstrual cup.
✔ Wear it without any additional protection during light flow or light incontinence.
✔ Made with thin, breathable, and gentle to your body, sustainably produced TENCEL™ fibers
✔ Perfect for day or night use
✔ Patented leak guard with pockets on the sides to hide pad wings if worn as a backup with a pad.
✔ 3 absorbing layers in the crotch area + an extra leak proof layer
FABRIC COMPOSITION

• Outer layer: sustainably made 92% TENCEL™ Modal (by Lenzing™), 8% elastane
• Gusset: 100% cotton, 80% bamboo, 20% polyester.
• Inner layer: 100% cotton covered with water-resistant TPU (thermoplastic polyurethane) certified by OEKO-TEX®

TENCEL™ Modal made of natural material - beech wood. The fibers are biodegradable and compostable under industrial, home, soil and marine conditions so they can fully revert to nature.
• Designed and patented in Europe. Responsibly made in ethically responsible factory in China.
CARE

- It is recommended that you wash your period panties with cold water and soap before the first use.

- Pre-rinse in cold water to remove blood stains. Handwash in cold or warm water or in a washing machine with similar colours. Do not chlorine bleach. Do not dry in a dryer. Do not boil. Do not iron. Avoid vigorous wringing. 

- Hand to dry.
DELIVERY

· Free delivery for orders over €70. Shipping charges are 7,90€.

· Delivery to all EU countries, also Norway, Switzerland, and Teneriffe.

· For more information about shipping click here.
Share
View full details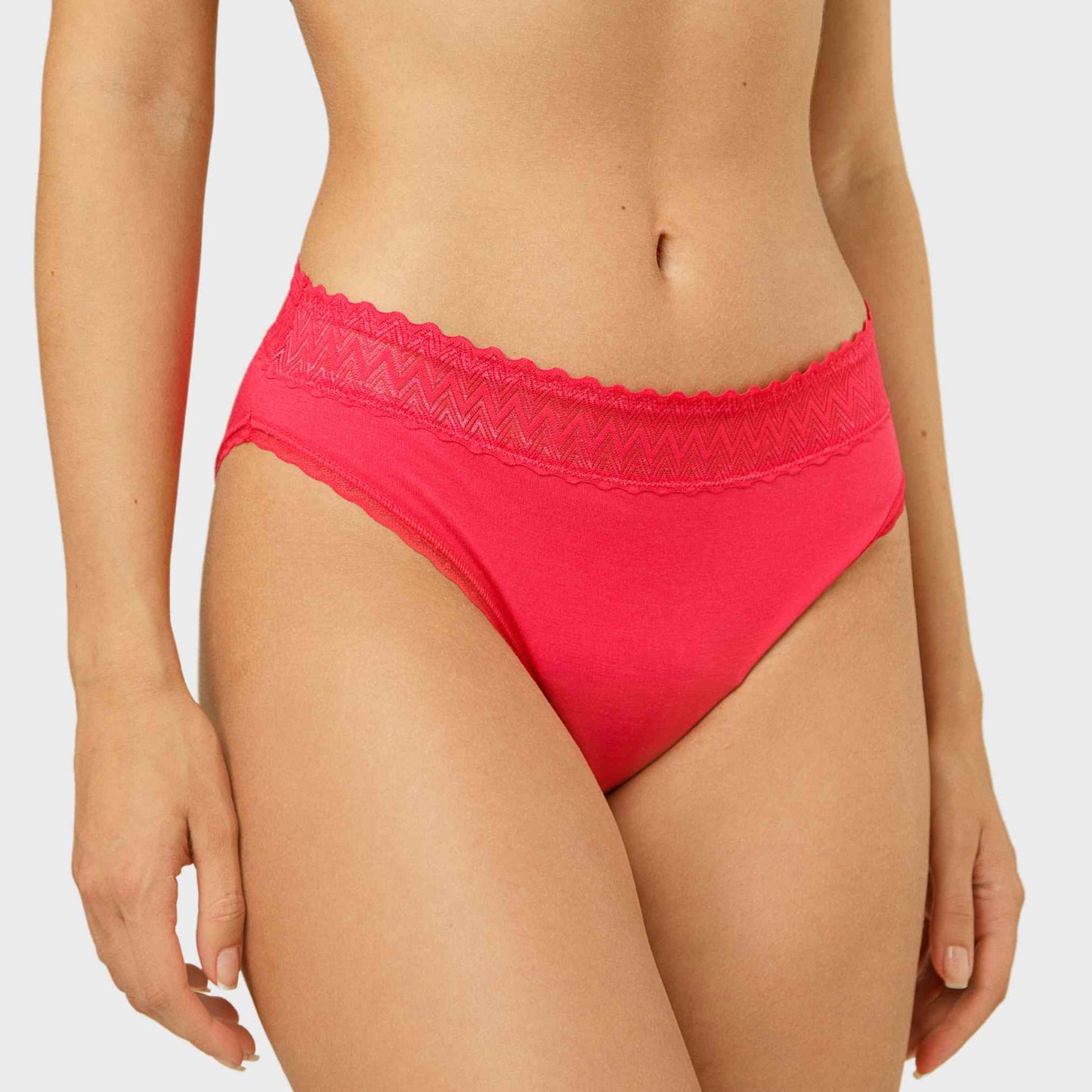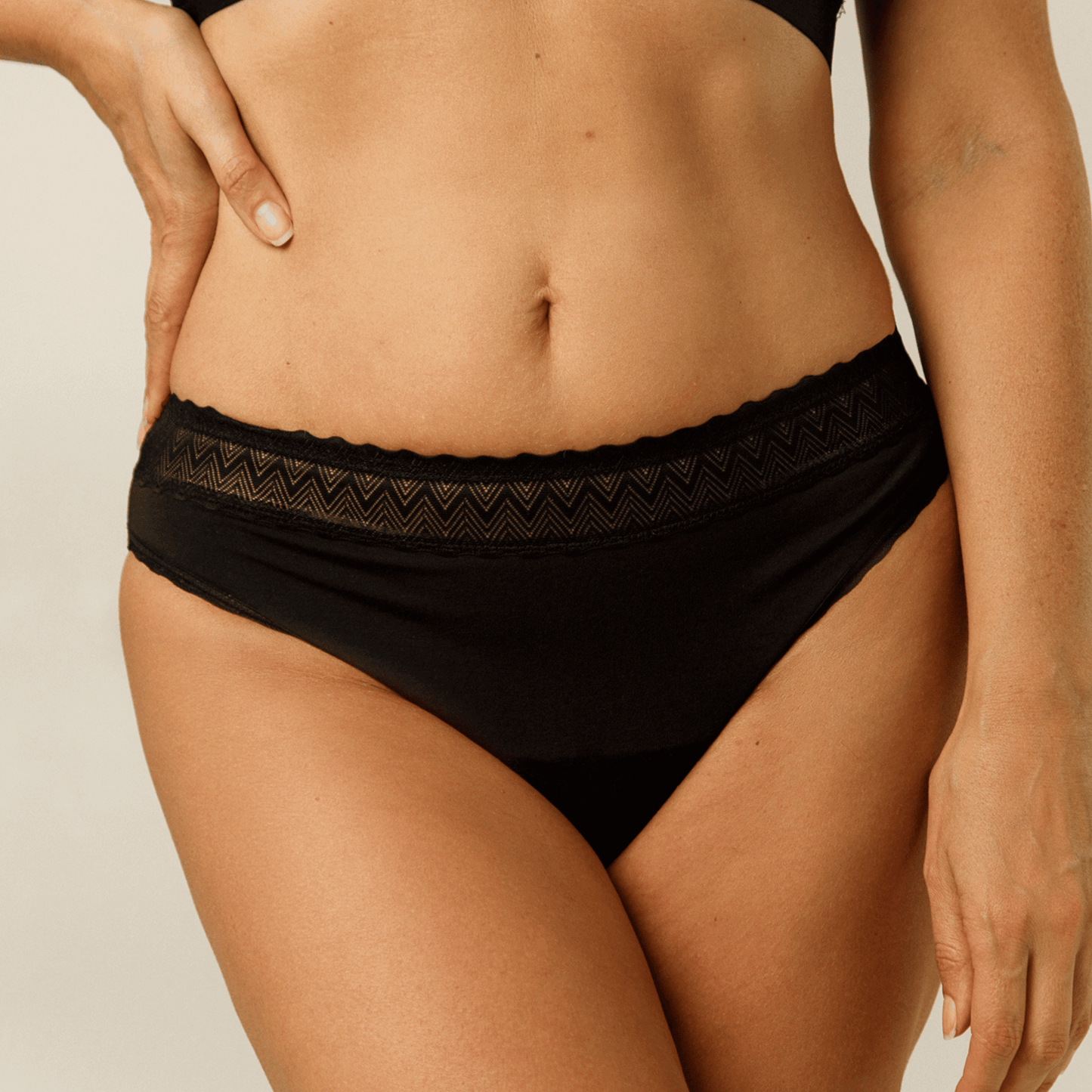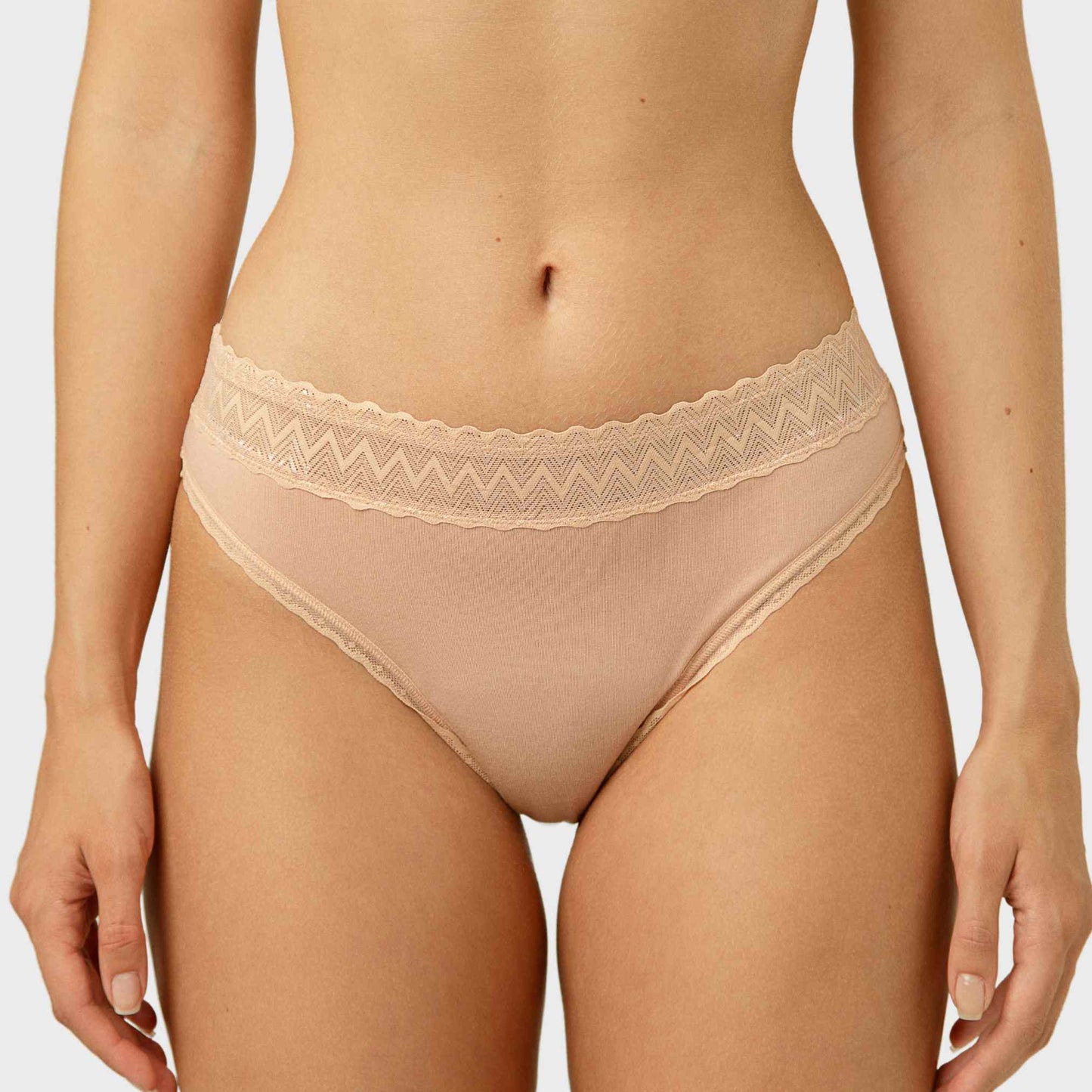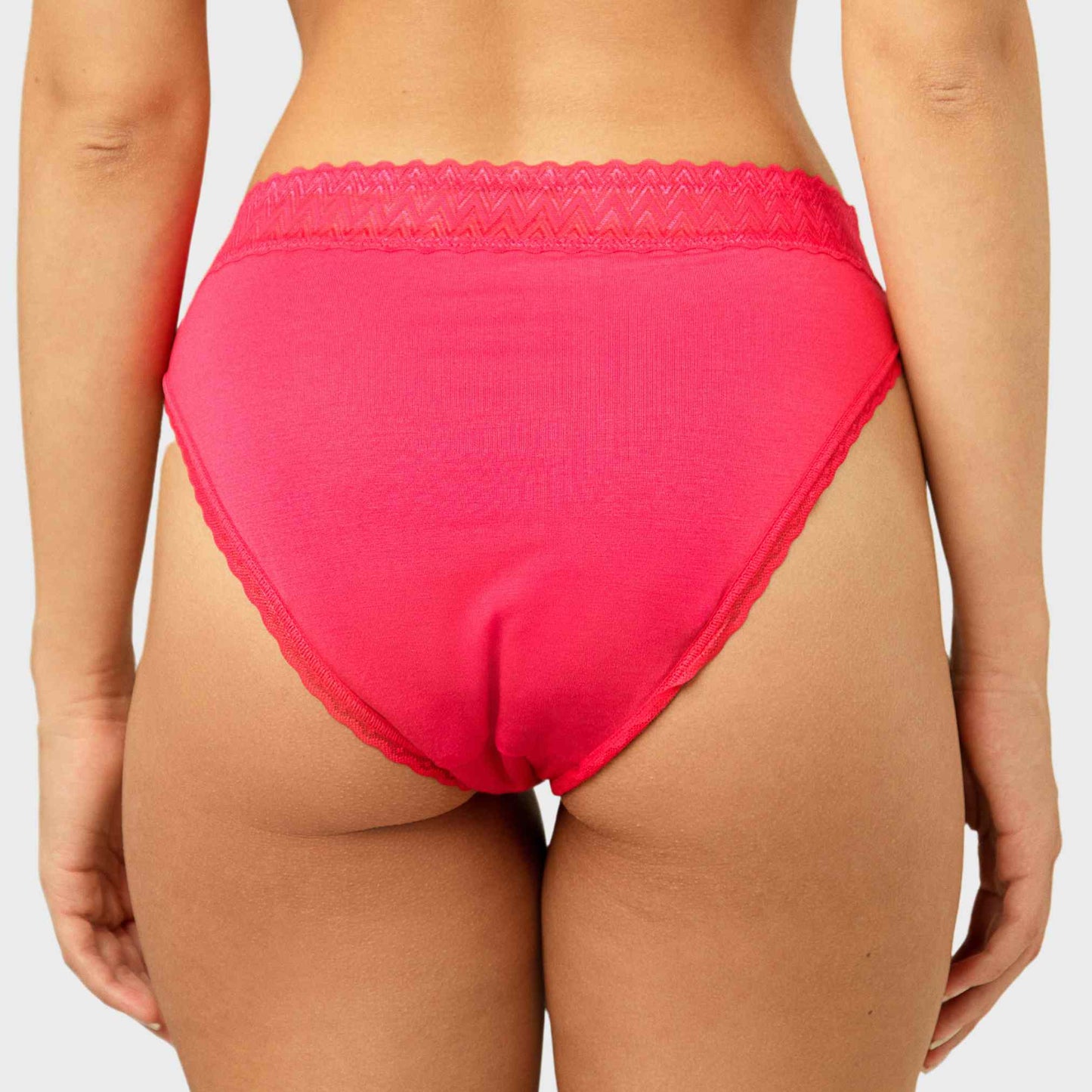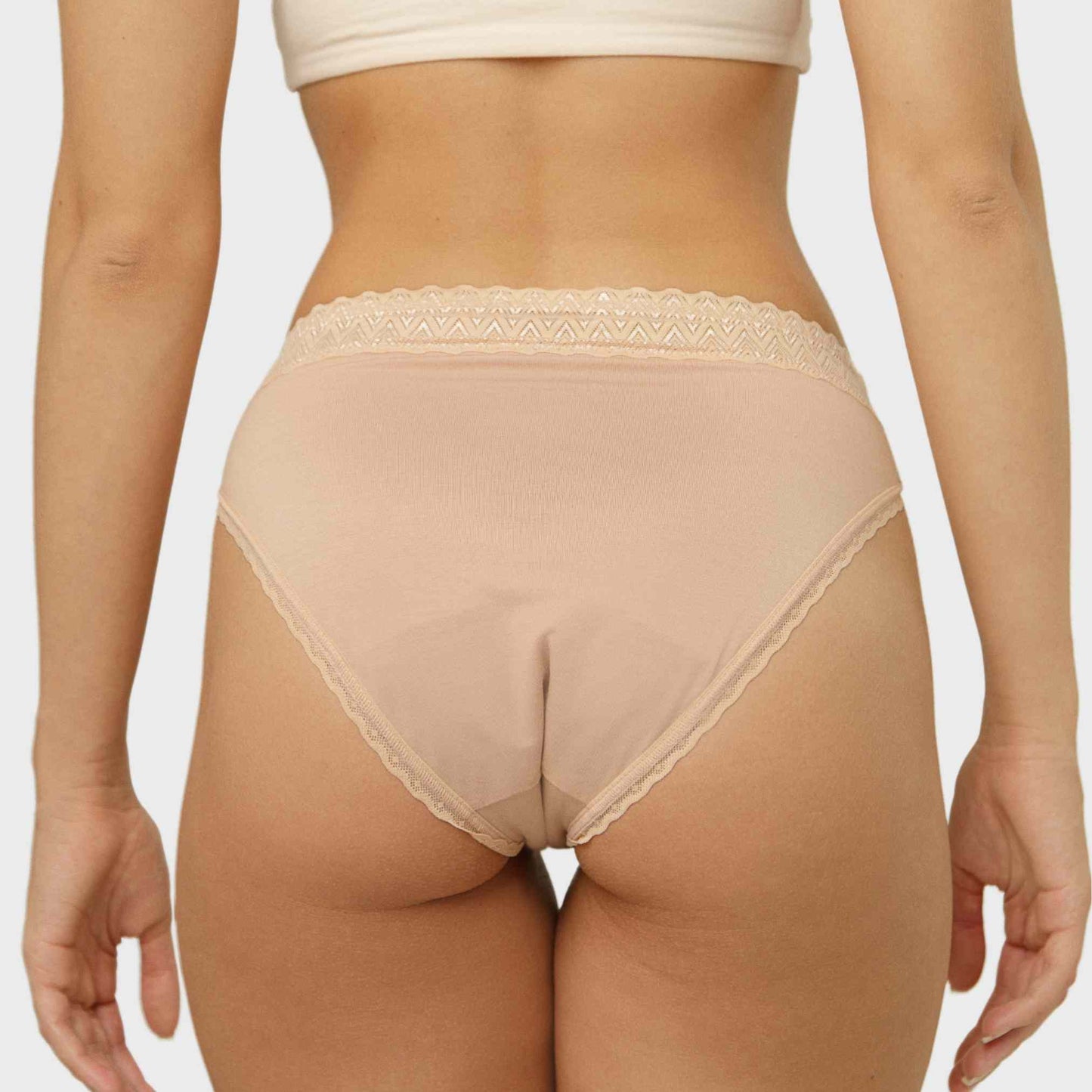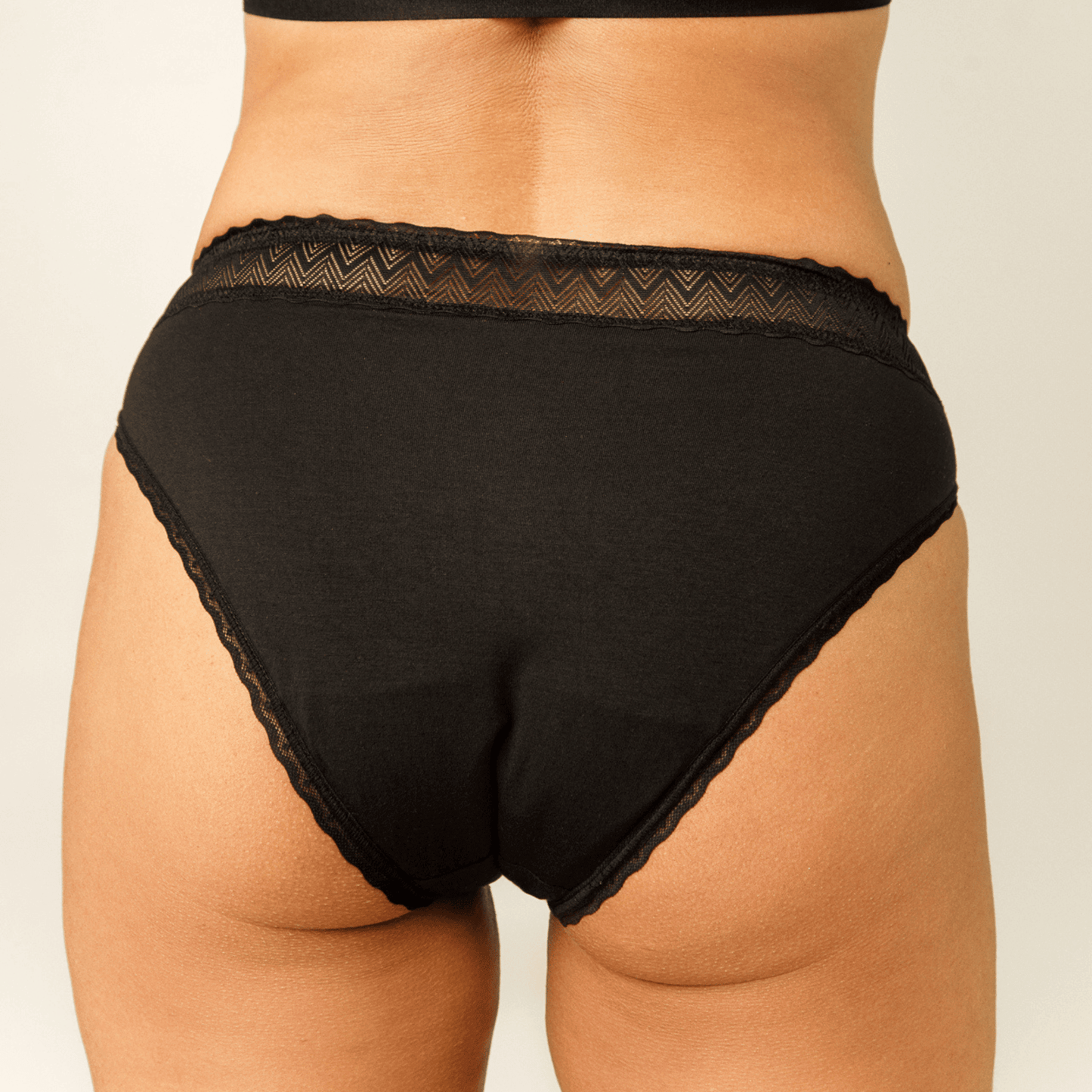 Size chart period panties
Hip Measurement
Stand on a level surface with your feet together. Measure around the fullest part of the hips and bottom, keeping tape parallel with the floor.
These panties run true to the size. If you are in-between sizes, we recommend going a size smaller. 
| | | |
| --- | --- | --- |
| Panties size | HIPS" | HIPS cm |
| XXS | 29-31 | 74-80 |
| XS | 32-34 | 81-87 |
| S | 35-37 | 88-95 |
| M | 38-40 | 96-103 |
| L | 41-43 | 104-110 |
| XL | 44-46 | 111-118 |
| XXL | 47-50 | 119-126 |
RETURN POLICY
Returns are accepted within 30 days of receiving your order if items are unwashed and in original condition. Sorry, but we do not cover return shipping costs, so please consult us before purchasing the garment if you have any questions.
UNSURE OF WHAT SIZE TO BUY?
Contact us, or DM us on FB or IG.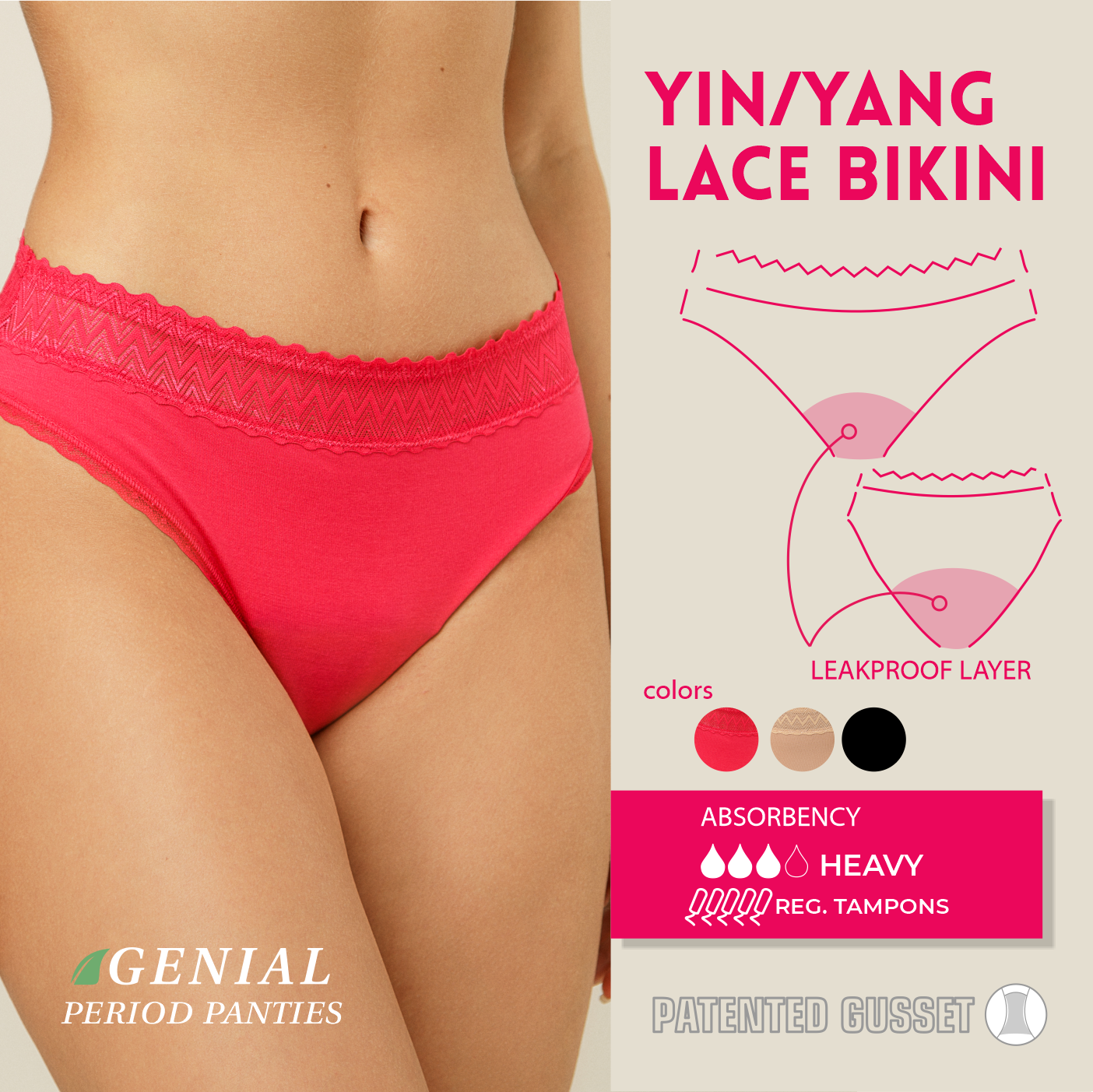 Protection From Leaks
Leak-proof and certified for your peace of mind
GENTLE DAY® period panties feature an OEKO-TEX®100 certified leak-proof cotton layer with a TPU or PUL membrane on the front and back of the gusset. This membrane is air-permeable, but also prevents liquid leaks, providing reliable protection for any occasion.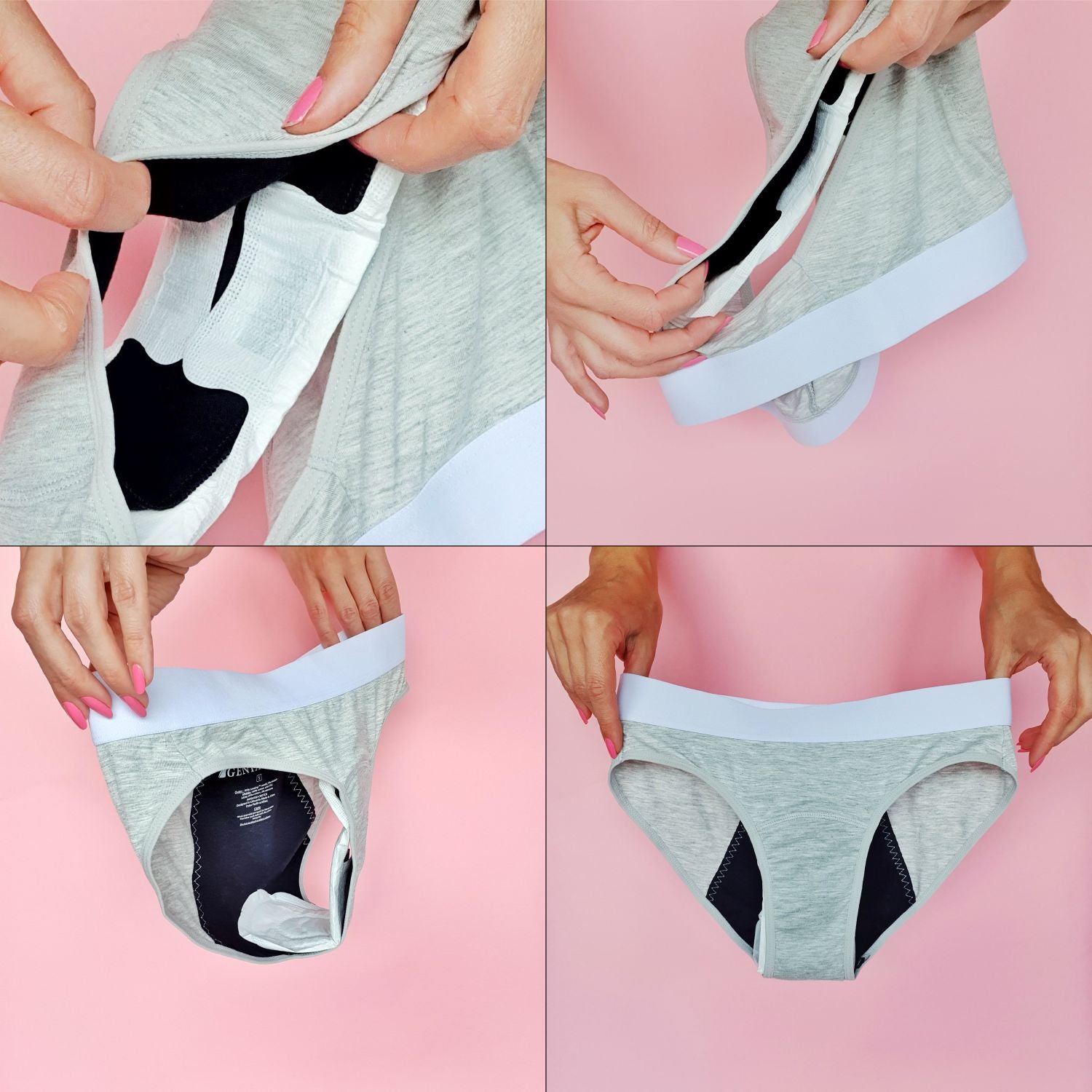 Gusset Innovation
Discreet protection: Provides discreet protection by absorbing the flow when worn alone, and hiding pad wings when worn with a pad.
Leak-proof technology: The cotton fabric absorbs blood or urine, while the TPU layer prevents leaks and protects your clothes.
Secure and comfortable: You can go about your day and sleep with confidence and peace of mind.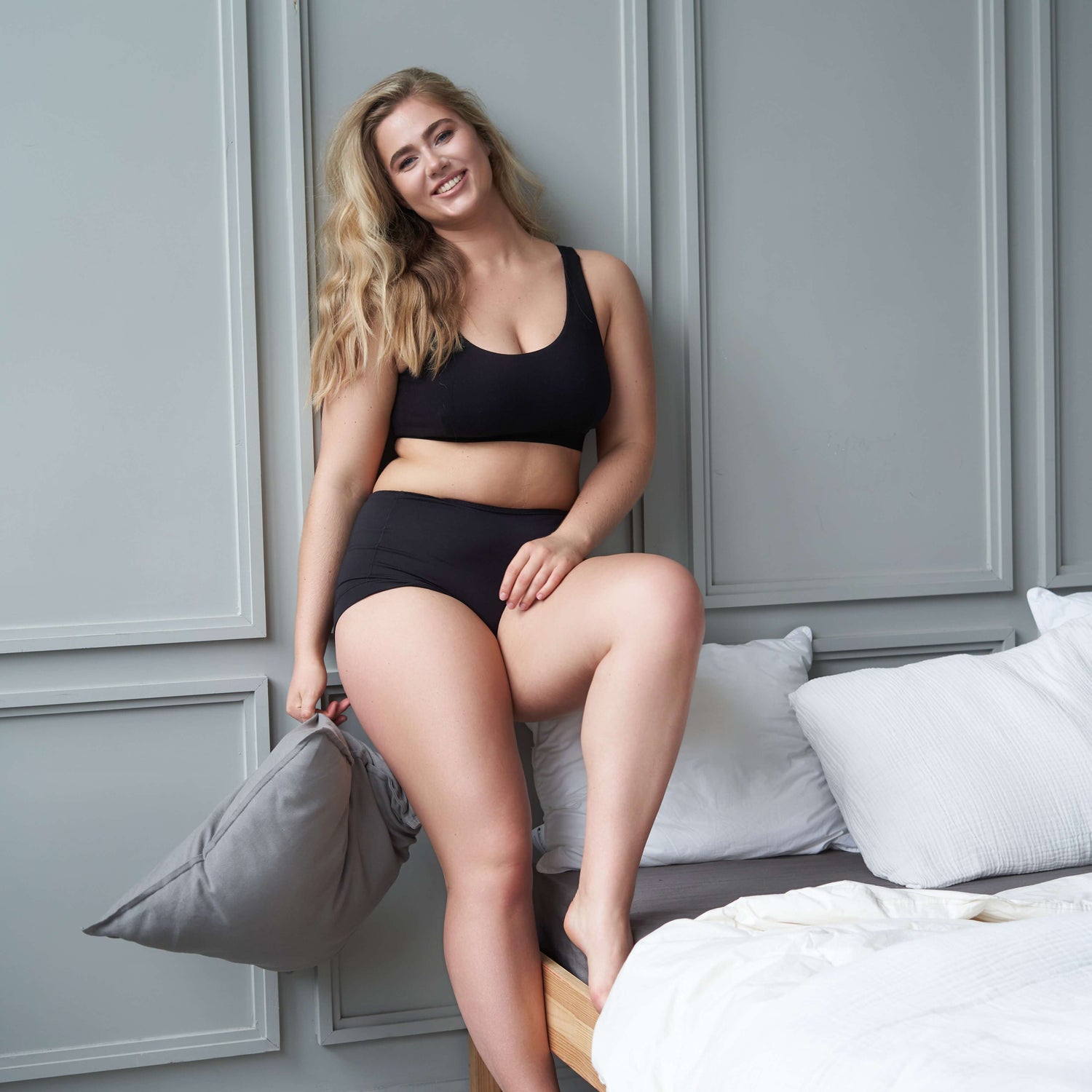 Stay Stress-free All Day and All Night Long
Say goodbye to stained clothes and mattresses and experience frustration-free periods and bladder leaks with our innovative leak-proof underwear.
Imagine the peace of mind you'll have when you no longer have to worry about embarrassing leaks.
INVENTION PATENT

The only period panties feature a crotch with pockets to hide pad wings if it is worn with a pad.

ABSORBENT LAYERS

We have designed these panties so you can wear them with backup, or without any. Absorbent layers can absorb up to 6 tampons.

SUSTAINABLE

We use natural fabrics like TENCEL™ modal, bamboo, and cotton with a protective TPU layer that is OEKO-TEX® certified, so you don't have to be wary about any harmful chemicals.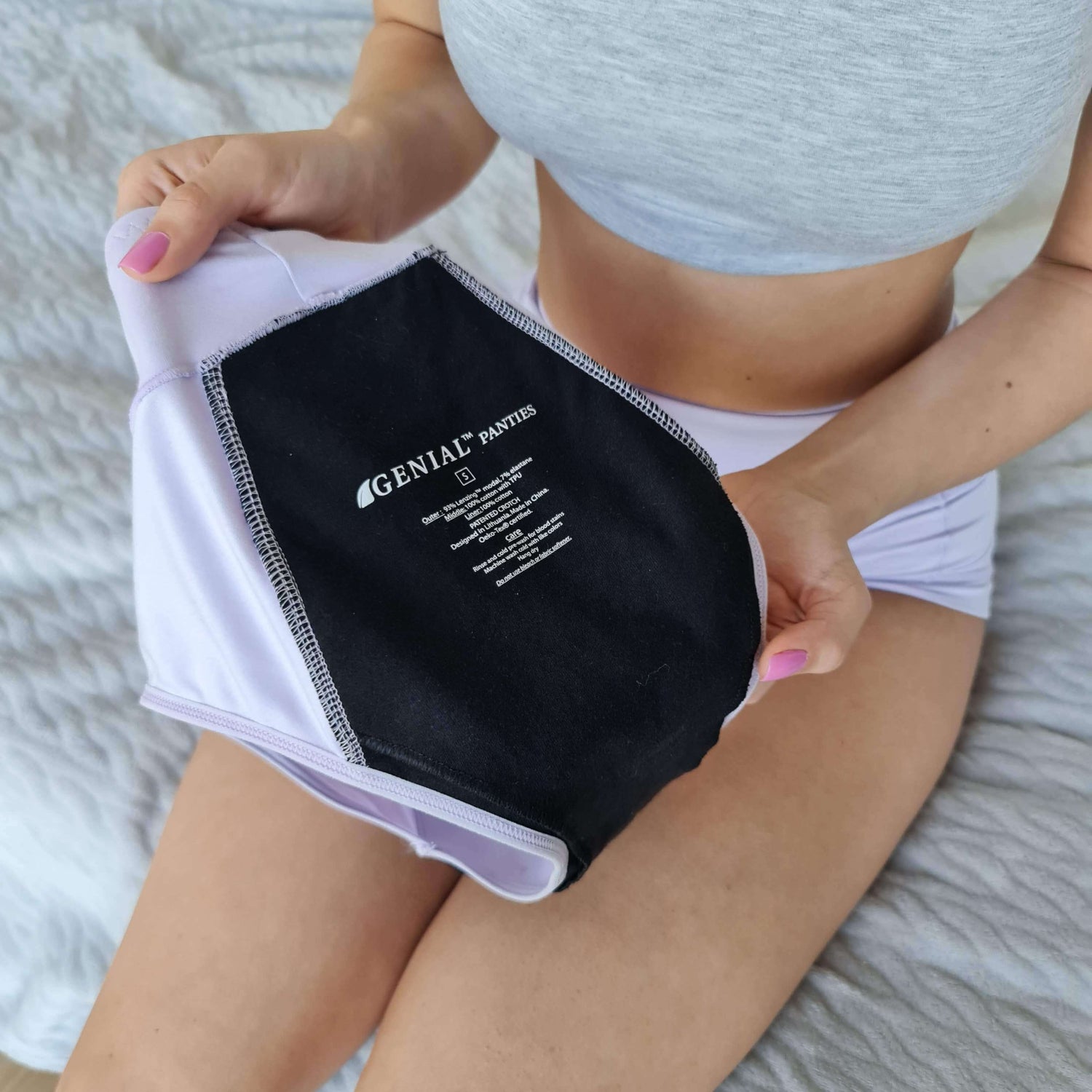 Easy to care
Period panties are easy to care for. Simply rinse with cold water and you can machine wash or hand wash using detergent. Do not bleach or tumble dry.
FAQ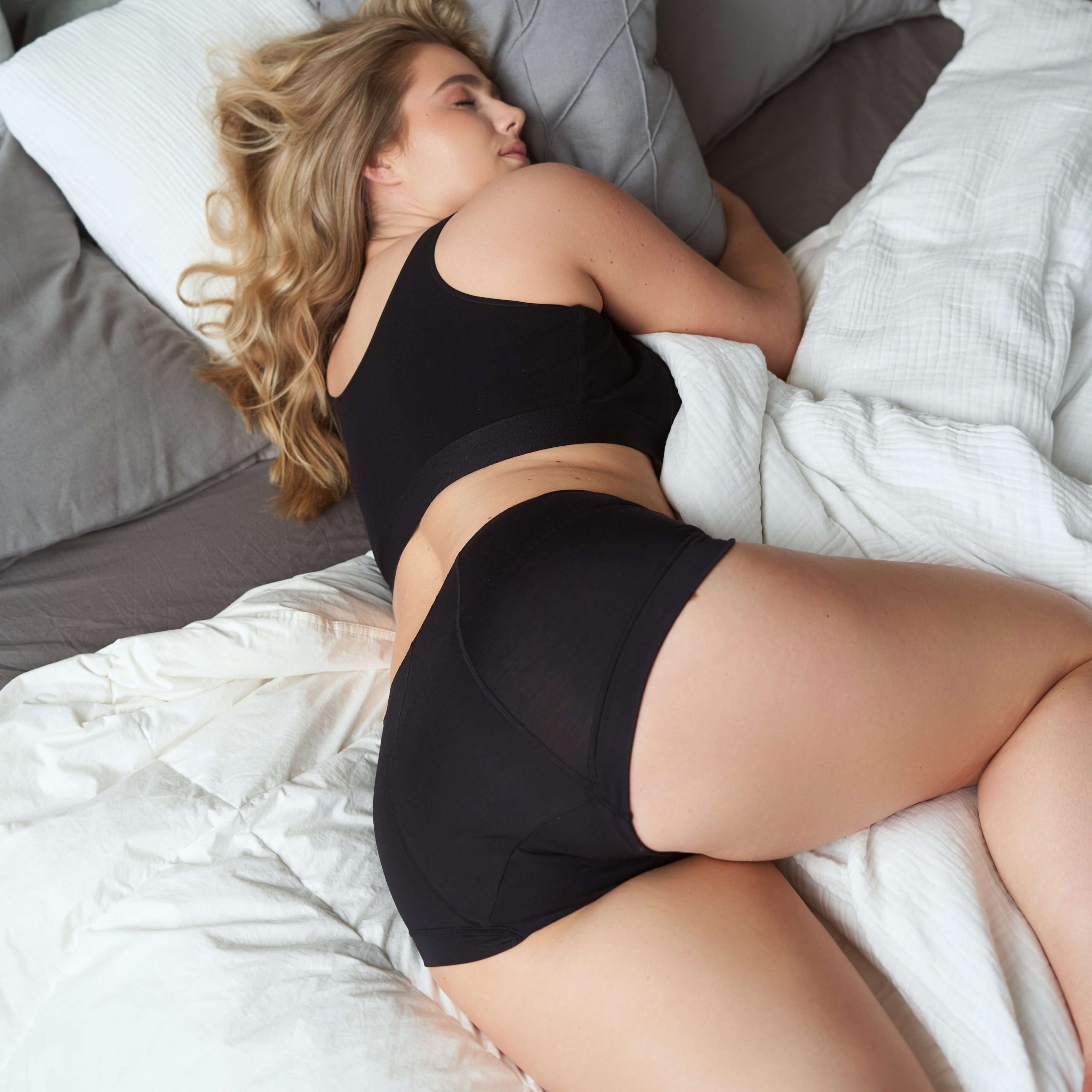 How does Leakproof period underwear work?

Our Leakproof period panties feature triple-layer technology that ensures you stay confident and protected. The inner layers of the gusset absorb the flow or pee, and the leak-proof outer layer keeps any liquid from spotting your clothes or mattresses.
What do the different absorbency levels mean?

Most of our Leakproof period underwear can absorb 2-6 regular tampons worth, which is about 15-40 ml of liquid. 1 regular tampon absorbency equals 6 ml.

Light absorbency

Great for light period days or when you're expecting your period. Absorbs approximately 12 ml, or the equivalent of 2 regular tampons worth of liquid.

Medium absorbency

For those with light to medium flow. If you have a heavier flow, wear it with a backup like a pad or tampon. Absorbs approximately 24 ml or the equivalent of 4 tampons worth of liquid.

Heavy absorbency

For those with medium flow. Absorbs approximately 30 ml or the equivalent of 5 tampons worth of liquid.

Super absorbency

Ideal for those with heavy flow, these can replace other products for both day and night use. Absorbs approximately 40 ml or the equivalent of 6-7 tampons worth of liquid.
What is the difference between Leakproof Underwear and Regular Underwear?

Even if it looks like your regular undies, our Leakproof Period Underwear features a patented gusset with a leakproof layer and can absorb between 2 to 7 tampons worth of liquid, providing you with confident protection against period leaks, and light bladder leaks.
Our EiVi Cotton Underwear features a double layer gusset with pockets to hide pad wings, but they do not provide any leakproof protection.
Which of your models are best for sleeping?

It depends on your preferred sleeping position. If you primarily sleep on your back, we recommend choosing panties with an extended back gusset, such as our Leakproof Hi-waist and Leakproof Boyshorts. If you prefer sleeping on your stomach, we suggest opting for Leakproof Boyshorts. However, the front gusset of our Leakproof Hi-waist panties extends quite high in the front, so if you prefer that model, you can also wear them for a comfortable night's sleep.
Are your Leakproof period underwear good for light bladder leaks?

Yes! Women like wearing out undies to prevent light bladder leaks.

They absorb up to 25 ml of liquid and feature anti-odour properties to keep you feeling confident.
What is TENCEL™ Modal fabric?

TENCEL™ Modal is super soft, eco-friendly fabric made from regenerative plants, produced using less water and fewer chemicals. This fabric is originated from Austria.
How long are the gussets in Leakproof underwear?

Depending on the size and style of underwear, the leakproof gusset ranges from around 15 cm – 22cm in the front, and 37cm to 44 cm overall. Some models have extended gusset up to the waistline both - in the front and in the back, and some have shorter gusset in the front. Please see the product pictures, and our icons, which explain where extended gusset is.
Do I need to wear a pad or tampon with Leakproof underwear?

The absorbency level of our Leakproof period underwear, as well as the heaviness of your menstrual flow, will determine whether you can wear our panties on their own or as backup protection alongside a menstrual cup, pad, or tampon. Our leakproof panties are unique because you can wear the pad while tucking in the wings in the gusset pockets, thereby preventing leaks and discreetly hiding the wings.
How do I wash Leakproof period underwear?

Washing your period underwear is a simple process. We have designed our products to be effortless to wash and care for. If you prefer, you can rinse your stained panties in cold water, and for optimal results, machine wash them on a cold cycle using mild detergent. Finally, tumble dry on low heat or hang to dry. Don't use softener or bleach, and never machine dry or iron.
What panties model should I choose?

Our customers have played an integral role in the development of every style of period underwear that we offer. The best style for you is the one that suits your needs and preferences. When selecting period panties, approach it just like you would with regular underwear. The only additional consideration is the protection level.